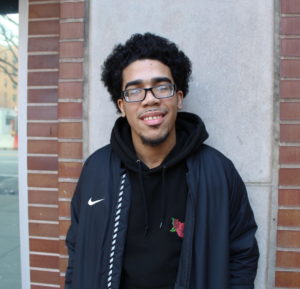 Why did you decide to join GOSO?
My friend had told me about the programs, and I especially was interested in the high school equivalency program opportunity. I had been involved in the justice system on and off, and when I heard about GOSO I thought it would be a good fit for me.
You're in our on site high school equivalency program — how is that going for you?
It's going well! I really love the teachers and how helpful they are; they make all of us feel very comfortable. I'm learning a lot — science is my favorite subject. I'll be taking my TASC exam in February and looking forward to see how I do.
I like that the school is right on site here at GOSO, so it's easy for me to attend since I live pretty close by. I also come to GOSO for other services, so it's good that everything is in one place. Before GOSO, I had gone to school in the Bronx and it was more difficult for me to get to. Also, I had been in special education classes, and when I got to high school they didn't have any programs to help me. It was really hard for me to focus. Now at GOSO, it's way better because the class is much smaller and the teachers are able to give me more attention.
Why is pursuing your education so important to you?
It's important because I know that my main passion in life is fashion! I want to graduate from high school and go to college — specifically FIT (Fashion Institute of Technology)!
What are your career goals in fashion?
I think I want to do graphic design and material artwork on clothing. I want to be the person who comes up with creative ideas and works with other people to make these ideas come to life. My favorite designers are Calvin Klein and Armani, so I look up to them and what they're doing.
I get such a sense of happiness when I design something new. Growing up, I didn't have a lot of nice clothing, so now that I'm older it's something that I really enjoy doing for myself because it makes me feel good.
What impact has GOSO had on your life?
A lot — GOSO got me my first job ever! I got a job working at a bus company called Vamoose through GOSOWorks.
I just get a sense of family whenever I'm here — it makes me feel so happy. I think of my Career Manager Lauren as like a sister. I also have a lot of friends who come, and have made so many new connections through GOSO. I've been able to meet other guys who are interested in fashion like me.
One of my favorite things about GOSO is all of the events they host for us. Just this past month in December, I almost cried during the holiday party that we had at school because I felt so happy. I don't really spend the holidays with my family, so these parties mean a lot to me. Priya (GOSO's school social worker) even got us these new Nike jackets as gifts — it was great. Felt like a real family holiday.
What is a piece of advice that you would give to someone else?
Even if you're at your lowest, never think negative, always think positive. Life is not going to be hard on your forever — it depends on how you look at it and how you change your perspective on your situation. Try to be happy and keep yourself happy. I always say self-love is the best love.
What do you think of the criminal justice reform movement?
I love seeing things around this issue. There are so many people who get prosecuted for the wrong things or get judged for the wrong things — things they never did. I think it's important to shine a light on that, and to not forget about those people who are locked up for nothing.
I think we have to care about something. I think of everybody as a neighbor and you have to care for your neighbor.