Our  community-based program services offer help in three key areas: education, employment, and emotional well-being through mental health & social services.
GOSO's Community Program has been based in East Harlem since 2005. While all aspects of GOSO's programming are important to the overall success of those we serve, our Community Program is central to our mission of assisting participants to achieve their personal and professional goals and avoid (re)involvement in the criminal justice system.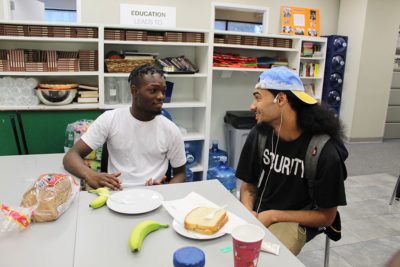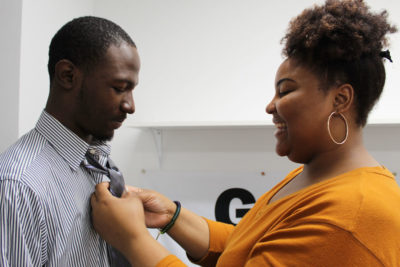 Community-Based Programs
/

GOSO is committed to ensuring that all participants can reach their personal and professional goals. Participants can choose a program track to move in the direction that they seek.
FOUNDATION TRACK
Participants choose this track if they are facing significant challenges, which could include barriers around mental health, homelessness or unstable housing, substance use, or issues around an open case or continued police involvement.
EDUCATION TRACK
Participants who do not have their high school diploma or equivalent will be encouraged to be tracked into Education with the goal of enrolling in our Pathways to Graduation program. Participants with their diploma or equivalent who are committed to attending college can receive support towards this goal.
EMPLOYMENT TRACK
Participants who pick the Employment track will have the opportunity to participate in GOSOWorks Job Readiness workshops and become eligible for Vocational Trainings. Participants can pursue credentials in fields including: construction, security, medical, commercial driver's license, and trade school in areas like electronics, music, automotive technology, computers and more.
Case Management and Mental Health Services
/
GOSO's approach is unique because we our program is staffed by a team of licensed social workers who provide therapeutically-informed case management services. Each participant is matched with one of our social workers, known as a Career Manager, with whom they work on their goals. Our staff provides effective treatment in the form of individual or group psychotherapy to address the mental health issues experienced by our participants.
GOSO assists participants in avoiding jail time or reducing a potential sentence through court advocacy. Our participants may need to appear in court for a variety of reasons and we support them by engaging their attorneys, district attorneys and judges, and by appearing in court on their behalf. We write hundreds of letters each year attesting to participants' hard work, both in our program and in the community. Over the last decade, GOSO has earned a reputation with the courts, other community providers, government agencies, and defense attorneys as a program that provides effective services in lieu of jail or a prison sentence.
In collaboration with the NYC Department of Education (DOE), GOSO has established Pathways-to-Graduation (P2G), a high school equivalency program at our Education Center. This class makes education more accessible to our participants by connecting them to educators and volunteer tutors along with breakfast, lunch, and MetroCards for transportation to and from class. Beyond our P2G class, we support participants who aspire to attend college by providing connections that help them enroll in and pay for higher education.
Utilizing funding from the City of New York, our employment program, GOSOWorks, connects participants to subsidized internship-to-employment opportunities with about 100 businesses across New York City. GOSOWorks is a staffing solution available at no cost to employers for the first 240 hours of work, after which employers can hire our participants. Many of our participants are hired in full-time jobs after going through the internship program. With our support, they become outstanding employees, ready to grow with the challenges of the job.
Housing and Benefits Program
/
We recognize that success is not possible without a safe space to call home, food, healthcare, and other necessities. We connect participants to housing resources such as grants, stipends, and vouchers; advocate for those with housing court involvement; guide them through applications for affordable housing; and assist with identifying emergency shelter. We also link participants to benefits such as SNAP and Medicaid.
Emerging Leaders Program
/
Emerging Leaders is GOSO's five-month leadership training for young men who are ready to tap into their leadership skills and to help shape the community around them. Through the program, participants have the opportunity to discover the power of storytelling and how it can shift the narrative, develop leadership skills to create positive change, connect with impactful community leaders, and become GOSO ambassadors. Emerging Leaders each receive a program stipend.
Vocational Training and Certification
/
We offer free monthly vocational trainings on-site at GOSO, preparing participants for careers in industries like construction, maintenance, and warehousing. Offerings include Scaffolding and Flagging Training, OSHA 30-Hour Construction Training, General Industry OSHA Training, and OSHA 16-Hour Security and Fireguard Training. We also cover the cost of professional licensing, like the NYS Security Guard license and the Drivers License Pre- licensing training course.
Our East Harlem offices are safe spaces where participants can come and find essential, everyday support. They can access new clothing, hygiene products, and furniture from our donation closet, as well as books from our library. We have a fully stocked communal kitchen where our participants can refuel with a meal or snack, and take food to a job site or back home. Participants have access to computers, phones, and printers during operating hours. We also provide vouchers for local barbershops so participants can get a haircut for an upcoming interview or event.