Learn how the young men we serve achieve success with support from Getting Out and Staying Out.
Since GOSO was founded, we've watched many of the young men in our program overcome obstacles to earn their high school diplomas, complete college, and begin rewarding careers in a wide variety of vocations. Many of them did so while supporting themselves and their families. Their stories are an inspiration to everyone who knows them. They are building a better future for themselves and their families, and are helping to strengthen their communities.
Timothy R. Finds Stability and Success through Employment
In 2019, GOSO participant, Timothy R. celebrated his one-year work anniversary at our GOSOWorks employer partner, Littleneck Outpost in Greenpoint, Brooklyn!
"GOSO giving me this opportunity has allowed me to experience true success. I'm still in the process of figuring out exactly what I want to do in the long term, but maintaining a solid job will help me no matter what."
A few years ago, Tim moved back to New York and had trouble finding a job. Once he became involved in the justice system, that made it even more difficult. That's when he discovered GOSO through a friend. Upon completing our career-readiness training, he applied to our GOSOWorks employment program and was matched with an internship almost immediately. Now, he's been with that same business for over a year!
"I get to take on a lot of responsibility at work because my coworkers and bosses realize how hard I work. I help out with anything around the restaurant that needs attention. What I really love about my job is the people I work with."
GOSO has become a safe space for Tim; a community that he can rely on.
"I'm grateful for GOSO because I always feel welcome to spend time here. That's a really big deal, even though a lot of people might not realize it. It sounds cliché but you don't know what anyone else here is going through or what their life is like. A lot of us are literally running from bullets or other dangerous situations. GOSO is our safe space where we can go and feel comfortable. On top of that, you can have so many great conversations with other people here; you'll get a better understanding of how the world works. Everyone can use a different perspective sometimes."
"I've benefitted from GOSO in so many ways, and with the success I've found along with my confidence, I feel like the sky's the limit!"
Kevin's Journey from Legal Troubles to Inspiring Leader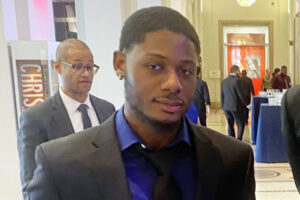 In 2017, Kevin found himself entangled in the complex web of the criminal legal system and it was his encounter with GOSO that kept him on the right path. Introduced to GOSO by his attorney, Kevin's journey through the program was fueled by determination and resilience.
Kevin wasted no time in making the most of the opportunities GOSO offered. He secured an internship through GOSO's workforce program while simultaneously enrolling in Pathways to Graduation (P2G). His commitment and hard work led to attaining his GED, marking a significant milestone in his educational journey. After a brief hiatus exploring other business ventures, Kevin returned to GOSO as a summer intern and Emerging Leader
Kevin's final presentation as an Emerging Leader showcased his passion for music and sharing it with the world as a music producer through an inspiring video he created. This creative endeavor reflected his talent, determination, and self-belief.
Reflecting on his experience, Kevin described GOSO as a sanctuary – a safe space providing a sturdy foundation for personal growth. As an intern, Kevin's work was marked by meaningful contributions to GOSO's wellness program. Kevin played a pivotal role in assisting participants and community members in enrolling in various benefit programs, demonstrated leadership among the GOSO community, and displayed immense promise.
Kevin's story serves as a beacon of hope, illustrating the positive impact that GOSO has on young lives. Through his dedication and the support of GOSO, Kevin achieved his goals but also discovered his true calling, igniting a newfound sense of purpose that promises a brighter future ahead.