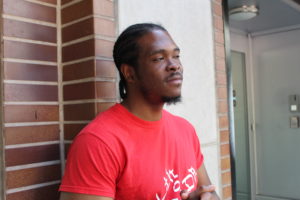 How did you get involved with GOSO?
I was incarcerated around 2016 and Chelsea (GOSO Senior Career Manager and Director of Reentry Services) used to come from GOSO to visit me. She told me all about the program and encouraged me to join. We stayed in touch throughout my incarceration— she would send me books and holiday cards. She showed she cared about me, which meant a lot, and I knew I had to join GOSO when I came home. When I started the program, I got my high school diploma, scaffolding and flaggers certification, and my OSHA-30 Hour certification. I participated in every program here, and now I get to help facilitate certain programs. 
You received your high school equivalency diploma at GOSO — why is pursuing your education important to you?
I never want to stop learning. Education means learning, constantly learning, and being skilled at what you learn. Yes, it means a degree or a certificate, but it's more than that.
Without the education it's harder to access everything you need to get by. In school, I learned more than what's in a textbook. I felt like I learned a lot about self-control and being able to think quickly and adapt to different situations. I think you need these skills to reach your goals. I think I was lucky to have teachers at GOSO with the tolerance and patience to teach these skills to students. They were able to reach anybody and everybody. 
You're also a Leader in Training (LIT) at GOSO. What do you do in that role?
As a LIT Ambassador I am essentially a peer mentor for other guys at GOSO. Recently, I started tutoring other guys who are working to get their high school diploma at the GOSOEd school, like I did. It feels good to be able to help other people, because I had a ton of people who helped me during school. Now I get to be that person.
I'm also a group facilitator. I get to help facilitate certain groups such as anger management, or as we call it here, Regulate. I lead by example, and promote the values that GOSO has put in place so other guys can follow in my footsteps. 
What does being a leader mean to you?
I'm getting older — I mean I'm still only 23 years old, but I see myself as a full-grown adult that has more responsibilities and capabilities to do more for the world and do more for myself. To be a leader is to have the influence and ability to show it, prove it, not just say it. Anybody can say they're a leader, but you got to show it. 
What impact has GOSO had on your life?
It's been such a positive thing in my life. Everyone feels like family. GOSO will help you not stay stuck. There's always something to help elevate you. I feel like the people who work here actually want to help people and care about more than just getting paid. That motivates me to want to help people too. This program seems like it would be too good to be true, but they really care and want to see you succeed. If you're slacking they'll hold you accountable because they know you can do it. 
They've gotten me through so much. I'm able to think more clearly and use my intelligence over my emotions. I've learned to acknowledge my mistakes and learn from them. They helped me always see the positive in everything. Capitalize on shortcomings as opportunities to grow and be better. One really important thing that I've learned through GOSO is to not judge people, which is one of the hardest things ever. 
How do you feel you've grown from your time with GOSO?
I feel I've grown tremendously, changed my whole mindset, everything. People sometimes don't believe that this is me now. It's a tremendous transition. I was at a dark place when I first got into GOSO, coming back from incarceration. Now, everything is different. GOSO has helped me realize that everything's going to be alright, everything's going to be fine. As long as you believe it, you'll succeed.