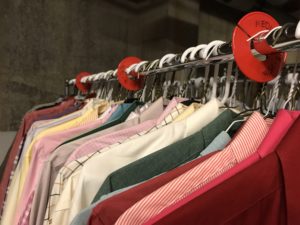 From August 19th to August 23rd, GOSO welcomed students participating in the Columbia Urban Experience (CUE) Program, a week-long initiative at Columbia University that promotes social justice through community engagement.
CUE Program participants are incoming freshman to Columbia, Columbia Engineering, and Barnard College, who express an interest in leadership, community-building, and ethical service provision. CUE offers placement opportunities in multiple non-profit organizations across the city. GOSO was among other orgs such as Housing Works, NYC Books Through Bars, Brooklyn Defender Services, and more!
At GOSO, CUE students undertook the task of reorganizing our expansive storage closet, which houses all of our donated resources. We receive regular clothing donations from our volunteers and supporters as well as fashion companies like Proper Cloth! All of these items go directly to the young men with whom we work. 
Having easy access to clothing is essential for GOSO Guys. We provide clothing for all occasions, whether participants are headed to an interview, preparing for their first day on the job, need a suit for prom, or just need a t-shirt and jeans to wear throughout the week. Guys rely on our storage closet for an outfit that will help them feel confident as they move through a style-oriented world. Now, with the help of the CUE students, our closet looks like it belongs in a department store!
The students took down every shirt, suit, and pair of pants from our racks, and decided whether each piece of clothing would stay or go. We were able to recycle any clothing that was not usable with a local company called Wearable Collections that recycles textiles so they stay out of landfills! After all the worn and outdated clothes were removed, everything left over was dutifully sorted by size and color. It's so important to us to house our clothing and resources in an environment that feels welcoming to our participants. It makes the experience of picking out an item of clothing that much more special!
In addition to helping out in the closet, CUE students worked alongside GOSO participants to prepare care packages of basic essentials for those in need. The care packages included granola bars, nail clippers, and sanitary pads, among other necessary things that many of us buy without thinking twice. The packages will be distributed to community-based organizations such as LSA Family Health Service and Mandala Cafe. Click here to read more about this GOSOGives project. 
We are so grateful to everyone who helped make this week with CUE possible. Thank you!
Highlights in photos below: