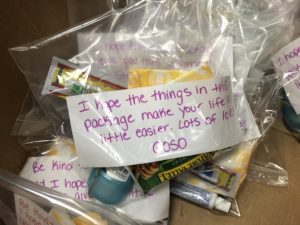 Everyday in our communities, there are people who might not have access to the basic essentials to maintain health and hygiene. Knowing this, GOSO participants, volunteers, and staff decided to do something about it.
For our August GOSOGives project, we assembled care packages to distribute to other local organizations like Food Bank and LSA Family Health Services. These organizations, in turn, can give them out to the people they serve. We'll also keep some of the packages on hand here at GOSO, to give to our participants who might need the extra resources. We were helped by a group of incoming Columbia University students, who are part of a pre-orientation service program called Columbia Urban Experience (CUE).
GOSO Guys, the Columbia students, and our staff worked side-by-side to thoughtfully put together about 200 packages. Each package includes: a toothbrush and toothpaste, deodorant, nail clippers, hand sanitizer, a comb, feminine products, chapstick, hair ties, face wipes, granola bars, and a handwritten note! Our goal was to bring a little joy to someone's day, and send a reminder that we care!
"It's a great thing to do and it makes you feel warm inside when you help others," said GOSO Guy, Michael C. who had so much fun making the packages, and has been a consistent participant in our GOSOGives events.
One incredible part of this project is how supportive our community was! We created an Amazon Wishlist of the items needed to make the packages, and you — our generous community of supporters — responded in full force! It's because of your support that we essentially got all of the items we needed, completely donated! We want to thank everyone who made this project possible.
The year has been filled with so many different community service projects already, and we can't wait for our next day of service. Keep staying tuned for more GOSOGives updates! To get involved, please email our Volunteer Manager, Emily Barnard at ebarnard@gosonyc.org.
See highlights from our care package assembly below: