For many, a new year is an opportunity to reset, refresh and set new personal goals. GOSO participant Simeon R. is doing just that, with a focus on education. His goal in 2019 will be to conquer his first semester at LaGuardia Community College, in Queens. Simeon plans to study business in the hopes of becoming an entrepreneur after graduating.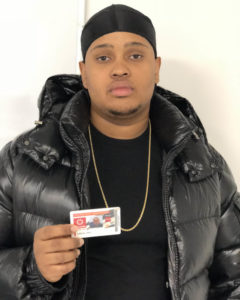 Simeon has already enjoyed a taste of college for several months now as a student in GOSO's course, "Reading the Biography," offered in partnership with College Now and LaGuardia Community College. Simeon tried college once before but found it difficult to succeed. Now, he feels better equipped thanks to the support he receives from GOSO. The College Now course has renewed his excitement about the opportunities which college might provide, and Simeon looks forward to sharing a classroom, at GOSO, with fellow students who challenge him.
"The discussions in class have been my favorite part because they're very engaging and interesting. I love hearing what other people have to say. We agree, we disagree, and through that, we learn new things from one another!"
The timing is right for Simeon to return to school; he's ready to take on this challenge.
"I think going to college is a great opportunity for people to progress. When you're in school, it makes you feel more relevant; you're more informed about what's going on in the world. I am so thankful for my Career Manager, Chelsea, who has been one of my biggest supporters not just at GOSO, but in life."
Photo: Simeon R. holds his new college student ID.