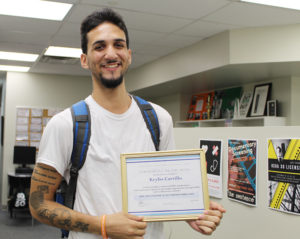 Growing up in the Bronx, GOSO client Keybo C. was faced with more than his share of negative influences and experiences. This personal history has inspired Keybo to position himself as a positive force of change for others in his community. He's brought this optimism and spirit with him to GOSO, where he's made an incredible impact as a leader among his peers. Keybo is an aspiring musician, with role models like J. Cole, and hopes to one day be an artist whose voice is genuine and whose influence matters. Here's what Keybo had to say about his future plans and what he thinks of GOSO:
Q: How are you affecting change in your community?
A: I plan to start my own non-profit organization called BREATHE, which stands for Brothers Reunite Each other After the Healing's Eternal. "Breathe," as a word, is meaningful. We experience it every day. And when we go through things, people tell you to "just breathe," in and out, and bring yourself back together.
Q: What will your organization seek to do?
A: I want to use BREATHE to help anyone, no matter their age, in need of support. From 10 years old to 100 years old! Anyone struggling with depression, thoughts of suicide; just anyone going through something without support. People who are homeless and have nowhere to go — I want to help them, clothe them, feed them, everything.
Q: What inspired you to begin developing a plan for BREATHE?
A: All my life, I've seen people in my Bronx community who reach out for help .. but no one is there. I want to be the first or last resort for anyone, before they go down the wrong path. I can be there for them, so they don't have to pursue something negative.
Q: Since joining GOSO, what is something you've learned about yourself?
A: Control of myself, and the power of letting go of things that don't serve me positively. Also, learning how to conduct myself in a professional setting.
Q: What is GOSO to you?
A: GOSO is a place where I can explore my creativity! I get to meet new people and use the different volunteer days or special events as opportunities to network. It's a place where I come to better myself; to keep becoming a better version of myself.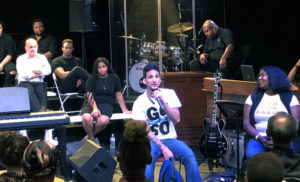 Photos: (1) Keybo C. receiving his Participant of the Week certificate, and (2) Keybo C. speaking on a panel following Harlem Stage's production of Antigone in Ferguson, which GOSO clients and staff attended.