We're going to the movies, and you're invited to come with us.
On October 12, 2018, GOSO will be attending a screening of an important new documentary, from HBO Documentary Films: The Sentence, by Rudy Valdez.
Donate today and our thank you gift is a ticket to the screening!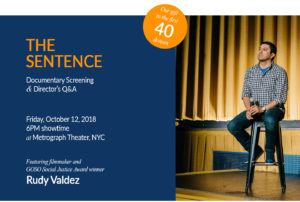 About the Film
The Sentence tells the story of director Rudy Valdez' sister, Cindy Shank, a mother of three who received a 15-year mandatory sentence for conspiracy charges related to her deceased ex-boyfriend's crimes. The documentary offers a searing look at the consequences of mandatory minimum sentencing and received critical acclaim when it premiered at the 2018 Sundance Film Festival.
The Sentence draws on hundreds of hours of footage shot by Valdez, who initially copes with his sister's incarceration by filming the family moments Shank misses in prison. In the midst of Shank's sentence, Valdez discovers his voice as a filmmaker and activist. (more)
About the Director
Rudy Valdez is a New York City-based filmmaker committed to making cinematic, meaningful documentary films about social, cultural and political issues. GOSO honored Rudy with the 2017 Social Justice Award. Learn more about Rudy (here) and watch him accepting his GOSO award, presented by actor John Slattery, below.