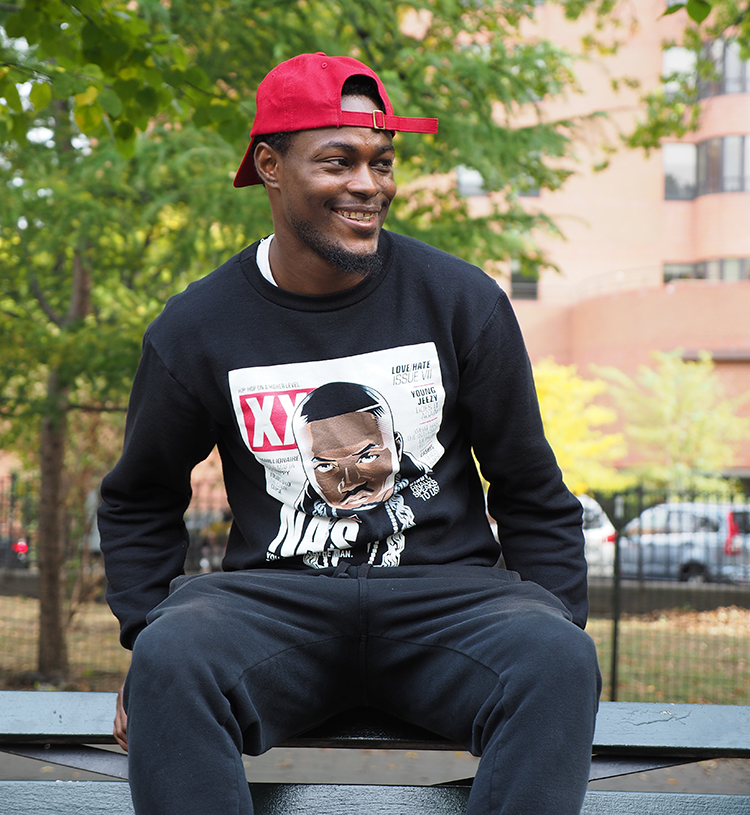 Today is the final day of Black History Month, and to finish it off right our guys have been sharing with us their personal reflections, important projects, heroes, and creative talents.
Hiness (pictured above), 24, has been at GOSO for 2 years, and is an active participant in our GOSOArts program. His particular passion is poetry, and he has performed at open mics around New York City (including at the Bowery Poetry Club).
Inspired by the words of Tupac Shakur and Malcolm X, poetry is a mechanism that allows him to open up and channel feelings in productive and creative ways. He was kind enough to share a poem with us in order that we might share it with you today.
His poetry – including this piece, "August 28, 1963" – is charged with social and political meaning. We think its sentiment and references are perfect to share today as Black History Month comes to a close. Enjoy.
August 28, 1963

My people were marching for jobs
Struggle for social justice look
How my black got robbed
Civil Rights movement, protesting for our rights.
It's 2018 and we still fighting the same fight
Why didn't you change the judge system?
I understand as a black man
Blacklash and the criticism
To the white man it would have
Been racism
2pac, Martin, Malcolm, Rosa parks,
And many more.
All died for a cause.
Pause

Trayvon didn't deserve to die
So I close my fist and
Leave my hand held high
Who am I
A black man tryna survive

I'm not stuck on stupid
I was raised by a black woman
Who taught me with love, protection, comfort, is how
You treat a woman.

Harriet Tubman, Mother Teresa, Sojourner Truth
If it wasn't for them my pain wouldn't
Be so deep in the booth.
Soul Survivor's something like Young Jeezy
RIP to 2pac's mother Afeni
Stop all the killings, rapes, DV.
Stop the shootings, more revolutions
Please turn off the TV
More Black Colleges, Black excellence
Black Kings and Queens
Let's not be ignorant
To the judges and the cops
I'm not guilty I'm
Innocent