Audio: Young Men in Harlem Grab a Second Chance After Arrests
By Janet Murphy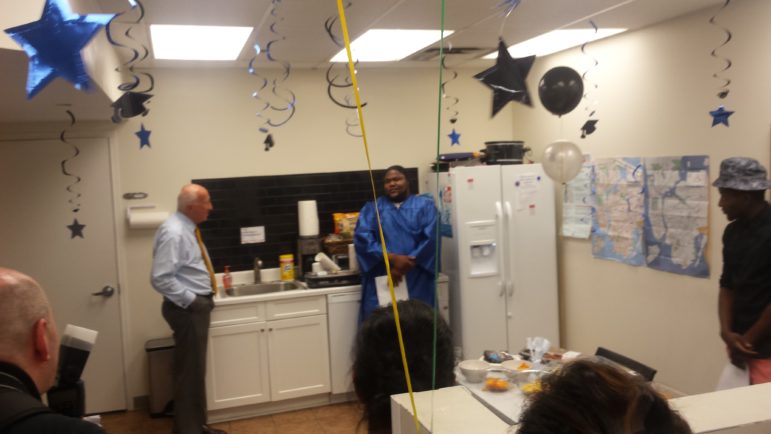 It's the season of caps and gowns in New York, and while there's a unique and valuable story under each mortarboard in the class of 2016, perhaps none are as interwoven with issues like race, policing, education and family as those of the young men who were honored Monday for achieving their high-school equivalency at the East Harlem organization Getting Out and Staying Out.
Launched a dozen years ago, GOSO encounters 16- to 24-year-old men in the criminal justice system and gives them vocational training, internships and a chance (or several chances) to get their Test Assessing Secondary Completion (TASC), the new name for the GED.
GOSO, which doesn't screen out anyone because of the nature of the crime they committed, combines traditional teaching with social work to provide a holistic approach. "Our students all have histories of trauma. Some are homeless. They're all poor," says Sarah Blanco, the director of programs. "Yeah, we can teach you to write a resume, but if you don't have conflict resolution skills, it's going to be hard to achieve your goals."
Quavon, 20, one of the graduates, talked to us about how he learned through TASC to deal with his anger. He was also frank about the setbacks he has encountered, and the attitude he tries to take with them.
[soundcloud url="https://api.soundcloud.com/tracks/271258199″ params="color=ff5500&auto_play=false&hide_related=false&show_comments=true&show_user=true&show_reposts=false" width="100%" height="166″ iframe="true" /]
Emmanuel, 23, is in his second stint with GOSO. He discusses why this time is working, how the program is different from others, and why he wants to pursue mechanical engineering if he passes the TASC exam he just took.
[soundcloud url="https://api.soundcloud.com/tracks/271257741″ params="color=ff5500&auto_play=false&hide_related=false&show_comments=true&show_user=true&show_reposts=false" width="100%" height="166″ iframe="true" /]