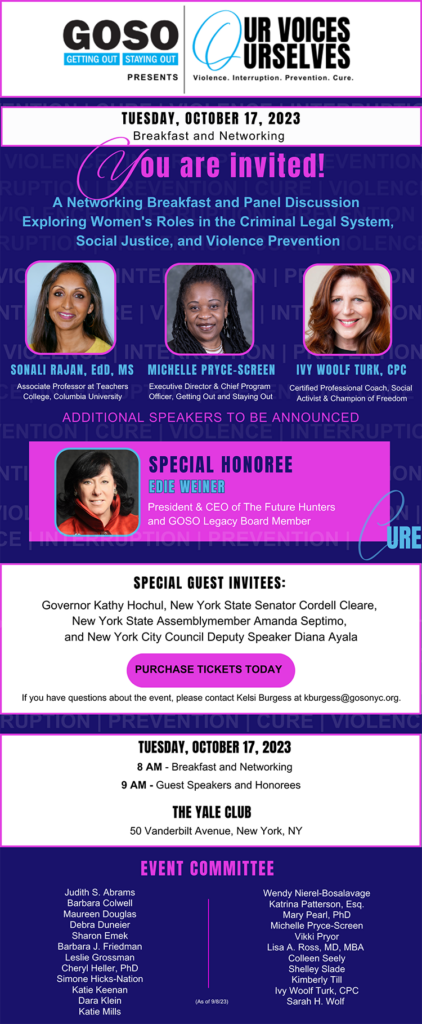 On October 17, Getting Out and Staying Out is hosting our inaugural Our Voices Ourselves women's breakfast at The Yale Club. This event will gather New York City's influential, powerful, and committed voices to network and discuss the impact of violence on women and the steps we can take to prevent and find a cure for violence in our communities. During the event, a panel of women will lead us in a constructive conversation about the criminal legal system and social justice, we will highlight peers for their important contributions, and we will hear from elected officials who will share their perspectives on these important issues. In addition, GOSO is excited to honor Legacy Board Member Edie Weiner for her deep commitment and meaningful service.
GOSO is one of the most effective programs for the at-risk and criminal legal system-involved individuals of New York City. For 20 years, GOSO's education and employment services, therapeutic services, and violence intervention and prevention programming has proven to reduce recidivism, increase well-being, and equip our participants with the tools to become contributing members of their community.
Our Voices Ourselves is a critical step in our expansion of these successful programs to women. Tickets and sponsorship opportunities are still available. For more information about the event, please click here to visit the event website or contact Kelsi Burgess at kburgess@gosonyc.org.
PURCHASE TICKETS TODAY