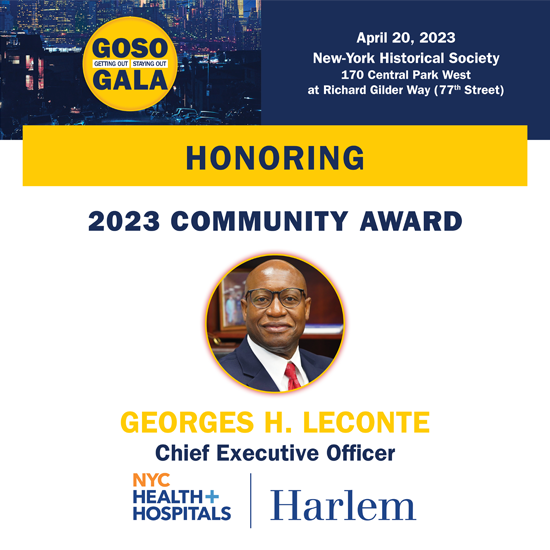 2023 Community Award
GOSO is proud to present our 2023 Community Award to Georges H. Leconte, NYC Health + Hospitals/Harlem for their commitment to healing and helping New Yorkers, and for serving the Harlem community.
NYC Health + Hospitals/Harlem has been an invaluable partner to GOSO, helping to build GOSO's emergency response to violence and supporting our de-escalation and violence prevention programs. The GOSO team is deeply grateful for their ongoing partnership and commitment to addressing the needs of our community.
NYC Health + Hospitals is the largest public healthcare system in the nation serving more than a million New Yorkers annually in more than 70 patient care locations across the city's five boroughs. NYC Health + Hospitals/Harlem is the largest hospital in Central Harlem and only Safety Net Hospital in Northern Manhattan. In 1958, Harlem surgeons saved the life of Rev. Dr. Martin Luther King, Jr. after he was stabbed at a book-signing. Today, Harlem Hospital continues providing outstanding care to all New Yorkers.
Mr. Leconte was appointed as CEO of NYC Health + Hospitals/Harlem in January of 2022 after three decades of experience in hospital administration and direct patient care as a licensed respiratory therapist. He has served in various leadership roles in the NYC Health + Hospitals system since 1999. Since becoming CEO of Harlem Hospital, he has helped lead the hospital's continued response to the COVID-19 pandemic and the ongoing public health challenges our community is still facing.
Please join us in thanking Mr. Leconte and his team for their tireless work and dedication.
Click here to learn more and secure tickets to GOSO's 2023 gala.