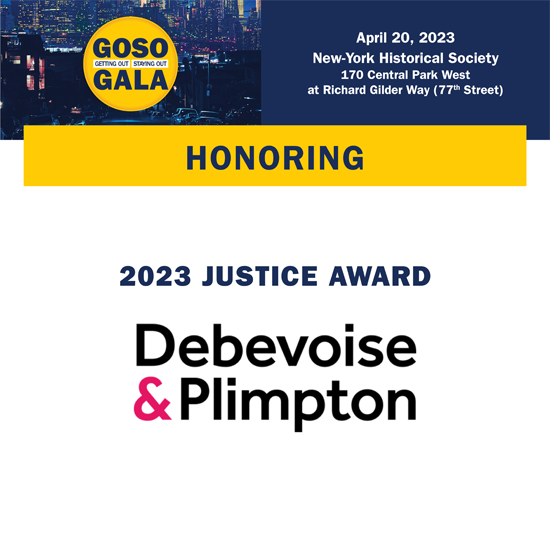 2023 Justice Award
GOSO is proud to present our 2023 Justice Award to Debevoise & Plimpton LLP for their extraordinary commitment to preserving the rights of the young people we serve.
Debevoise & Plimpton LLP is a premier law firm with market-leading practices, a global perspective, and strong New York roots. Approximately 800 lawyers work in nine offices across three continents, within integrated global practices, serving clients around the world.
Since 2016, Debevoise has represented GOSO and GOSO clients referred to the firm in a range of matters. Their dedicated team has spent more than 850 hours assisting GOSO with corporate governance, employment, real estate and contract matters. They have also spent a combined 15,000 hours representing GOSO clients in criminal trials, appeals, and civil rights litigation. More than 90 lawyers and 50 staff people have participated in those efforts.
Two Debevoise lawyers, Simone Hicks and Sarah Wolf, currently serve on the GOSO Board of Directors. Sarah and other Debevoise lawyers founded the GOSO Action Board.
Before the pandemic, the Debevoise team held clothing drives for GOSO participants and regularly volunteered at the GOSO mock interview sessions, often bringing in corporate clients as additional volunteers.
Please join us in thanking Debevoise & Plimpton LLP for their dedication to GOSO and their life-changing support to our participants for six years and counting.
Click here to learn more and secure tickets to GOSO's 2023 gala.