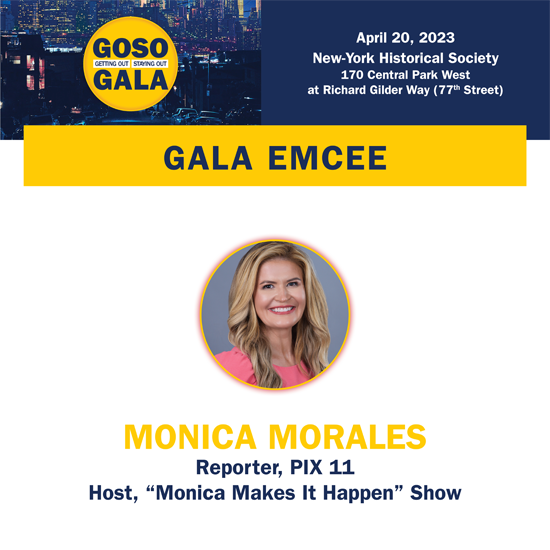 2023 Gala EMCEE
Pix11's Monica Morales is the six-time Emmy Award-winning host of the "Monica Makes It Happen" franchise on Pix11, and the streaming "Live Monica Makes It Happen Show" every Thursday night on PIX11's Facebook page. She is known for her focus on social justice with an eye toward providing concrete help to families across the tri-state area with housing and related issues.
Monica was profiled in the Columbia Journalism Review for her advocacy journalism and is one of vanishingly few reporters who focus on public housing in the US. And her advocacy is backed by action. Since 2016, Monica has visited over 200 housing developments to help fix hundreds of homes, and has helped restore heat, hot water, and gas to more than 75 buildings.
It was due to this valuable community work that Monica's series was nominated for a Community Service Emmy last year. Her daily coverage of NYC's crises in housing, food insecurity, education, and health care inequalities brings attention to issues of vital importance for GOSO's participants. And Monica has turned her lens on GOSO's work, spending time in the field with our SAVE East Harlem Violence Interrupters in 2022.
It's no surprise, then, that in addition to journalism awards she's received many plaudits from the community. Honors include the Canon Frederick Boyd Community Service Award (endowed by the Rockefeller Foundation) for her tireless work fighting for affordable housing for families, the Latina Voice of the People Award from the Long Island Hispanic Chamber of Commerce for her focus on helping Hispanic families, the Harlem Honors Award for her daily work helping low-income communities cut through the red tape of city agencies, and more.
GOSO is honored to have Monica as our 2023 Gala Emcee and grateful for all of her support and community advocacy.
Click here to learn more and secure tickets to GOSO's 2023 gala.