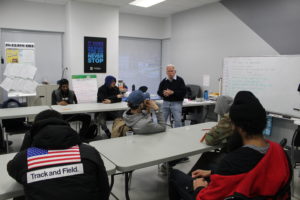 This month, we kicked off a new initiative: our Advanced Curriculum! When a participant joins our community program, he must complete a Two Week Job Readiness Curriculum that includes workshops such as Resume & Cover Letter Writing, Time Management, Career Exploration and Job Search, and more! Once a participant completes all of the required workshops, he has an interview with our President and CEO and if he passes he can take part in all of our other programming. This foundational curriculum is comprehensive and sets our participants up for success in their personal and professional lives. Despite all that it includes, our participants are always curious to learn even more skills that can take them to the next level.
This is why we've created our new Advanced Curriculum program, which will build on the foundation that the Two Week Job Readiness Curriculum sets. We're bringing in outside experts who will volunteer their time to provide more advanced skills training to GOSO Guys. Our vision is to embody and promote what our participants wish to see and want to learn. The goal is to continue to support participants in future endeavors beyond maintaining jobs and basic employment and educational skills.
Examples of some workshops we'll be hosting are: Salary Negotiation, Advanced Civics, Sexual Harassment, Financial Literacy, Entrepreneurship, and so many more.
Our first workshop — How to Ask for a Raise — took place last week and was facilitated by one of our longtime volunteers, Chuck Hoffman. Participants and Chuck discussed how to approach a supervisor and how to advocate for one's hard work in order to receive a pay increase. We talked about the challenges of asking for a raise and how to overcome these so that participants could feel more confident in putting this skill to use in the real world.
We're relying on the support of our experienced volunteers to help us with this new program. If you or someone you know would be interested in facilitating an Advanced Curriculum workshop here at GOSO, please contact us at info@gosonyc.org. We have set workshops that we need facilitators for, but are also open to hearing pitches for workshops based on volunteer expertise (i.e. graphic design, photography, social media, music composition, etc.). We hope to work with you!