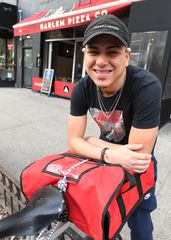 Meaningful employment is critical to the success of our participants. We were delighted to share our philosophy with USA Today for their recent article, "Got a criminal record? Will hire: Businesses pledge to give formerly incarcerated a chance." More importantly, GOSO participant Michael Almodovar (pictured) had the opportunity to share a bit of his story, which underscores how empowering employment can be for as justice-involved young men set their lives back on the right track.
From the article:
"I can't overstate how important it is to make a decent wage. The dignity inherent in work and being able to earn a wage to support yourself and others is a really powerful incentive." – Geoffrey Golia, GOSO associate executive director, discussing our employment program GOSOWorks with USA Today
Employment is one of the most immediate challenges in fighting recidivism, as there are often many boundaries to securing and maintaining employment once released. GOSOWorks is one piece of our effort to help our guys minimize and navigate the challenges that arise during the job search, preparing them with skills training workshops and even providing professional attire to wear to interviews and Metrocard fare to make it there on time.
Read the full article at USA Today here.
Photo: GOSO participant Michael Almodovar is one of the many people benefiting from the changing environment in which barriers to giving the once incarcerated a chance to work are coming down. (Photo: Robert Deutsch, USAT)