I'll tell you how I ended up on Rikers Island. Fifteen years ago, I volunteered for PENCIL's "Principal for a Day" program. I asked to be assigned to the toughest school. A short ride later, I was on Rikers Island in a classroom with a group of young men who inspired me to be a catalyst for change.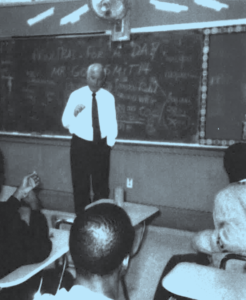 My students on Rikers, all those years ago, had everything stacked against them. They'd been dealt an unfair hand, yet they were still willing to hear me out when I talked about the commitment it would takefor them to avoid recidivism once released from jail. "About 60% of the men in Rikers today, when they're released, will end up back here. That does not have to be you," I promised them.
Leaving Rikers, I knew my words were not enough. When these young men stepped out from behind bars, they needed an organization in place and equipped to give them critical support. They needed education and training to decide whether going back to school was the right path for them, or perhaps to gain entrée into the professional field that would give them financial stability. Importantly, these guys needed mental and emotional support – for that, I'd need a team of trained and licensed social workers. To deliver on my promise to these young men, I established Getting Out &Staying Out (GOSO).

Fifteen years later, GOSO's impact is significant and, importantly, measurable: the recidivism rate among GOSO participants is under 15%, compared to the national average of over 60%. GOSO's holistic approach is redefining reentry. We've created a family atmosphere in our East 116th Street offices, and this feeling of inclusion and support absolutely factors into our participants' success.
The hard costs of operating GOSO are significant: our annual MetroCard costs alone are in excess of $150,000, to ensure these young men arrive to interviews and jobs professionally and on time. But the investment is worth it. Our rigorous Job Readiness Curriculum, of which I am extremely proud, leads nearly all of our participants to not only a three-month paid internship (subsidized by GOSO), but full-time employment. With the support of the entire GOSO family, our guys are recognizing the investment we're making in them and they're committing themselves to staying out of the criminal justice system.
Fifteen years since first stepping foot on Rikers Island, I still return every week and I tell the young men I meet that I'm
there to give them a shot, and that they can count on GOSO to be a consistent resource for them when they're released. I can make that promise because I know we have the help of generous supporters like you.
As we enter our 15th Anniversary year, I ask you to please support our vital services with a contribution to our agency.
We have a saying at GOSO: "It's all about the guys!"
M.G.

Photo: Mark Goldsmith volunteering as "Principal for a Day," on his first visit to Rikers Island, in 2004.
Read more about GOSO's 2018 year in-review in our year-end newsletter. (here)