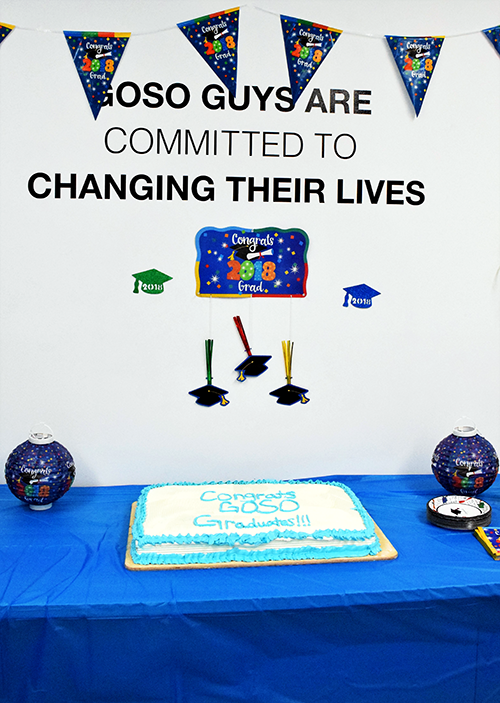 Last Wednesday GOSO held a ceremony to celebrate TASC graduates and those working toward completing their education at our recently-opened GOSO Education Center with a party attended by graduates, current students and their families.
Education is one of GOSO's "Three E's" (Education, Employment, Emotional Well-Being) and we encourage each and every one of our clients to continue their schooling, from high school to college, and beyond.
"I am so proud of our students and all that they accomplished this year," said Lauren Bricker, GOSO's Director of Education. "They have overcome many obstacles to get to this point and their perseverance and dedication is inspiring. Graduation time is a time to celebrate the students' hard work and we at GOSO are always excited to celebrate the success of our clients."
Anyone pursuing an education and brighter future can face  obstacles, but thankfully GOSO has an outstanding staff of educators, social workers and tutors dedicated to supporting our guys through the challenges they face on their road to success. We continue to be blown away by the successes of GOSO's education program year after year, and we are able to offer our clients an important wealth of resources because of all those who are dedicated to this effort.
One such partner in this effort is Pathways to Graduation, a New York City Department of Education program for high school equivalency. Priya Seshan, a social worker with Pathways to Graduation, said:
Pathways to Graduation (P2G) at Getting Out and Staying Out experienced an extremely successful year! This year, we experienced a record number of students earning their TASC diplomas — nine, our highest ever!! Many of the students who earned their diplomas have successfully gained employment and/or enrolled in a college preparatory program. This year we also recorded significant gains in overall student attendance, reading level improvement, and completion of all student portfolios. We toured CoOp Tech to explore vocational training, and engaged in a variety of fun activities designed to increase student cohesion: our annual catered holiday breakfast celebration, student birthday parties, and a film and snacks day in the afternoon! The P2G GOSO location is staffed by two veteran certified teachers and a school social worker, and is supervised by Principal Marie Polinsky and Assistant Principal Perla Rodriguez. Our longtime teacher, William Garifal, is retiring after serving GOSO students for many years and we wish him well in his future endeavors. We look forward to building upon the successes that we experienced this year.
We also took the opportunity to congratulate every GOSO Guy who is involved in our school, even if they have not yet passed their TASC. Each one of them has achieved something great in the past year, and deserve to be recognized for their hard work and dedication as they press forward. Congratulations guys!
All photos on this post taken by Pamela Belen (@pambelenphoto).