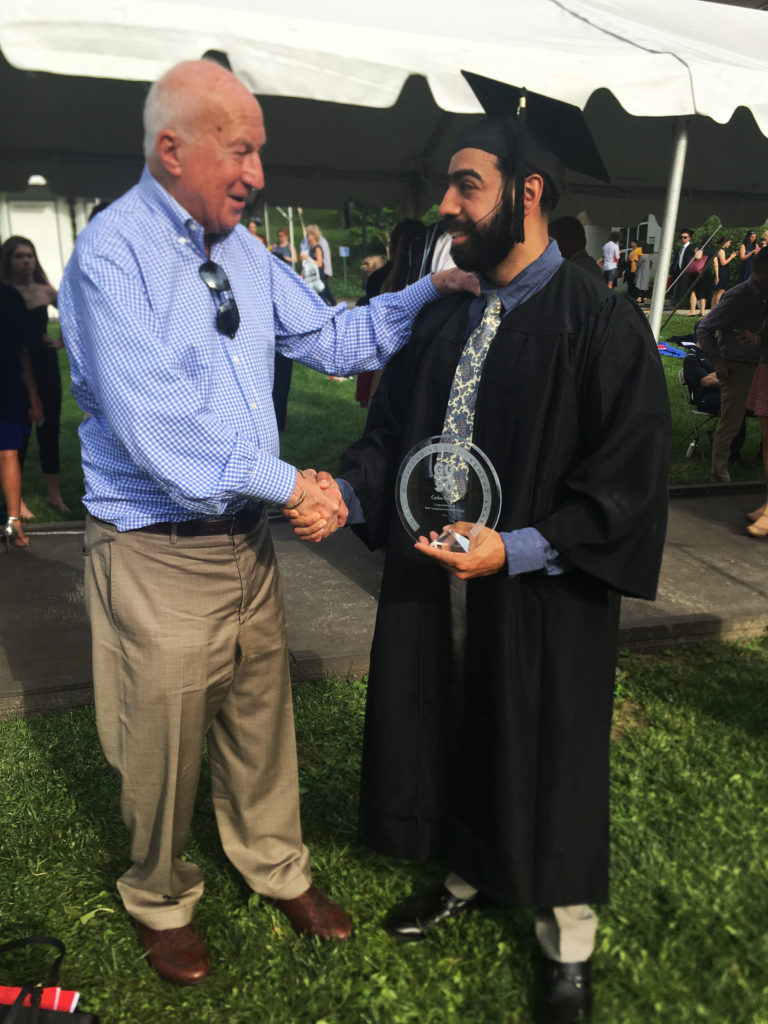 Our Guys are graduates! GOSO participant Carlos P. graduated from Bard College this past weekend, and GOSO President and CEO Mark Goldsmith was there to watch as he crossed the stage and switched his tassel from one side of the mortarboard to the other. Carlos's achievements received the distinction of special mention by Bard President, Leon Botstein, who lauded Carlos for enrolling in college while incarcerated. He leaves Bard a Bachelor of Science with a degree in Mathematics (final project: "Gene Transcription Modeling Within a Random and Tethered Environment").
Carlos first became aware of GOSO when he met Mark Goldsmith, our President and CEO, on Rikers Island. Mr. Goldsmith – "MG" as he is known – was at Rikers to meet with incarcerated young men who wanted to know more about how GOSO can support them on their personal journey out of Rikers and towards independence and self-sufficiency. MG spoke; Carlos signed up to stay in touch.
From Rikers, Carlos was relocated to an Upstate Correctional Facility, where he served eight years. During that time, MG kept in touch and the relationship they established during their first meeting on Rikers Island gained strength. Carlos was not interested in sitting idly by for the duration of his sentence. Rather, he enrolled in the Bard College Prison Initiative (while incarcerated). Upon release, Carlos returned to New York City and immediately made his way to the GOSO East 116th Street office – here, he knew, he would find support and access to critical resources during his complex period of re-entry. Carlos took advantage of every opportunity provided to him, including networking events hosted by GOSO. His eagerness earned Carlos a position as Assistant to the President with a company specializing in executive recruitment. Along the way, Carlos has learned first-hand the priceless value of mentorship. Now, he allocates time in his own schedule to tutor others in need.
The GOSO family is so proud of Carlos and all that he has accomplished. We know he will go on to do even more amazing things in the future!