The Stargate Theatre Company is a program housed within Manhattan Theatre Club (MTC) in New York. Stargate is focused on "giving voice" to youth who are facing the challenges of poverty, trauma, and involvement in the criminal justice system. During the summer season, their full-time program offers paid positions to these young people, to come and learn how to write, direct, and act in their own stage productions. This not only leads to expanded creativity, but also to improved self-confidence, communication, and critical thinking, and helps develop workforce-readiness.
For four weeks in September and October, Stargate Theatre Company ran a two-hour workshop each week just for GOSO participants. These workshops were all part of our GOSOArts program, which brings in different creative and artistic opportunities for our clients to engage in. GOSO aims to expose our clients to a variety of art forms so that they can express themselves and also learn valuable life skills.
We had the chance to get to know the staff at Stargate, Judy Tate, Paul Gutkowski, and Wade Handy, who talked to us about why they love theatre and reaching young people like our clients at GOSO.
GOSO: Did you always know that you wanted to be involved in the arts?
Wade: Yes – started in middle school. I was involved in school productions as stage management. I received my bachelor's in theatre from the Florida State University, School of Theatre.
Judy: I have been doing stuff from the time I was little – rounding up neighborhood kids and making plays together. I attended New York University's Tisch School of the Arts for Acting.
Paul: I got social work degree (LCSW) at Columbia University. I got into theater at a later age, and started studying improv at People's' Improv Theater in New York.
GOSO: What led you to Stargate?
Wade: Stargate found me! I was working at MTC and they were looking for someone to manage the Stargate project.
Judy: I started as a teaching artist with MTC in the early 90s, and then got involved with Island Academy on Rikers, got a playwriting fellowship through MTC, and then left for ten years to write television (daytime tv). Then when I came back, I helped create Stargate with two board members from the Vera Institute and MTC.
Paul: I was working here at GOSO when Stargate was started, and we were approached about sending guys there. And it happened to be around the same time that I was getting into theatre and discovering this passion for performance and theatre. It was awesome to just see the therapeutic benefits that theatre has.
GOSO: What made you want to get involved with supporting justice-involved youth?
Judy: I'm from the Southside of Chicago, I say no more…
Wade: Doing my part to undo the wrongs of hundreds of years.
Paul: I had my own experiences with the juvenile justice system as a young man. And I experienced firsthand, privileges that exist because of skin color and socioeconomic status…I felt that it was unfair.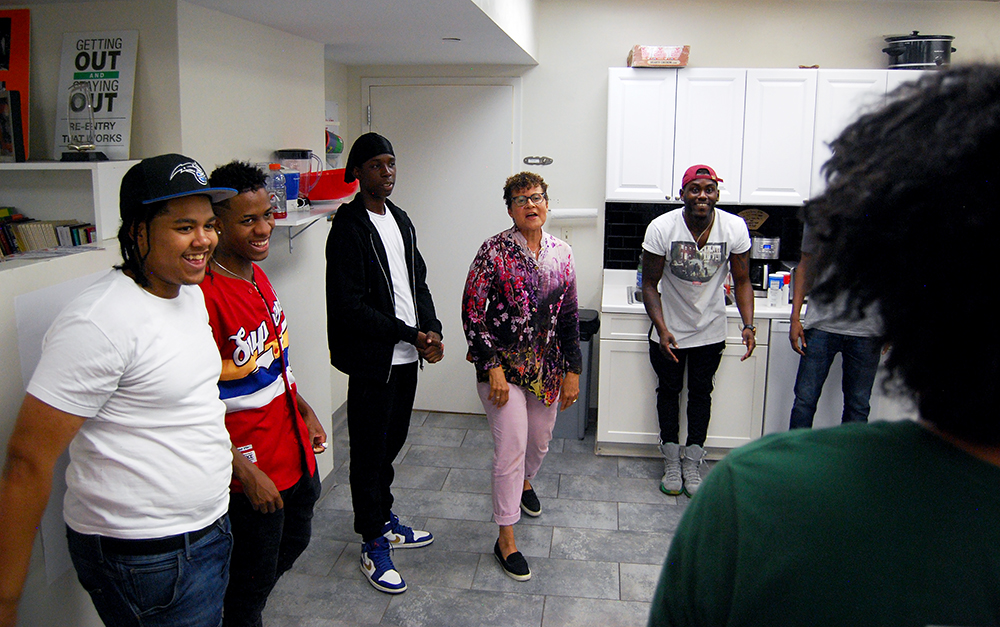 GOSO: What is unique about Stargate's approach?
Judy: There are no other employment programs that use theatre as a medium.
Wade: Exactly what Judy said. When we're in full project-mode over the summer, we are a job-readiness program, and we pay.
Paul: The fact that we pay them allows us to treat them as artists; we have really high expectations for our program participants.
GOSO: What do you hope our clients take away from the workshops that you've done with them?
Judy: I hope that they see themselves as creative beings, able to make choices, not only about art but maybe that will trickle down into life.
Paul: I hope that they will feel more comfortable speaking out loud because of something that we did; or they connected with someone in the group, made eye contact with someone, got to know someone, and would do that again.