Last night, September 28, New York City Mayor, Bill de Blasio held a Town Hall at the Johnson Community Center in East Harlem. The Town Hall was mediated by Speaker of the New York City Council, Melissa Mark-Viverito. De Blasio and Mark-Viverito were accompanied by many leaders of city government agencies (NYCHA, DOE, NYPD, etc.).
Getting Out and Staying Out (GOSO) and our partner organization, Stand Against Violence East Harlem (SAVE) made a point to be present at the meeting, in order to represent the individuals that we serve. GOSO and SAVE are proud to be a part of the East Harlem community, and want to continue to affect change where it is needed. Mayor de Blasio even gave a shout-out to SAVE, calling it the most effective Cure Violence initiative working in New York City.
With over 600 RSVPs from community members, the center was packed and a lot of energy filled the large gymnasium space. These meetings are an opportunity for citizens of East Harlem to not only voice their concerns for their neighborhoods, families, and businesses, but also for them to receive a concrete solution plan for these issues from the Mayor himself.
There were a lot of issues raised, and many attendees added more volume to their neighbors' voices as they cheered and clapped in support. Some main issues discussed were: transportation, public parks, public safety, education, and criminal justice reform. However, by far, the biggest topic of the evening was affordable and public housing. Ensuring that the public housing in East Harlem, receives the funding and attention that it needs is crucial to the well-being of thousands of residents. People were interested to hear the mayor's plans for already existing housing and creating more affordable housing opportunities for residents. Affordable housing is key to a stable https://improvehearingnaturally.com/Buy-Accutane.html living situation for many residents and is a very important issue for many of GOSO's clients.
The Mayor also started the meeting with a moment of silence for a young man, Matthew McCree, who was killed while in school, at the Urban Assembly School for Wildlife Conservation. This incident is an example of what SAVE and GOSO both work towards preventing and helping with the community healing process. Mark-Viverito continued the emotion-filled evening, with a strong statement about Puerto Rico and the devastation that has been felt there. She talked about how hundreds of New York City public service workers are in Puerto Rico, on the ground, working to help our fellow Americans. Her statement was powerful and necessary in an area with a large Puerto Rican population.
After discussing the heartbreak that has been felt by the community and by those in Puerto Rico, Mayor de Blasio described New Yorkers well: "We may have rough exteriors, but we have hearts of gold. Thank you for caring about the community enough to be here tonight." Getting Out and Staying Out is extremely grateful to have had the opportunity to hear from our neighbors and understand even more fully our community's concerns. Both GOSO and SAVE were honored and proud to have attended the Town Hall.
More images from Mayor de Blasio's Town Hall: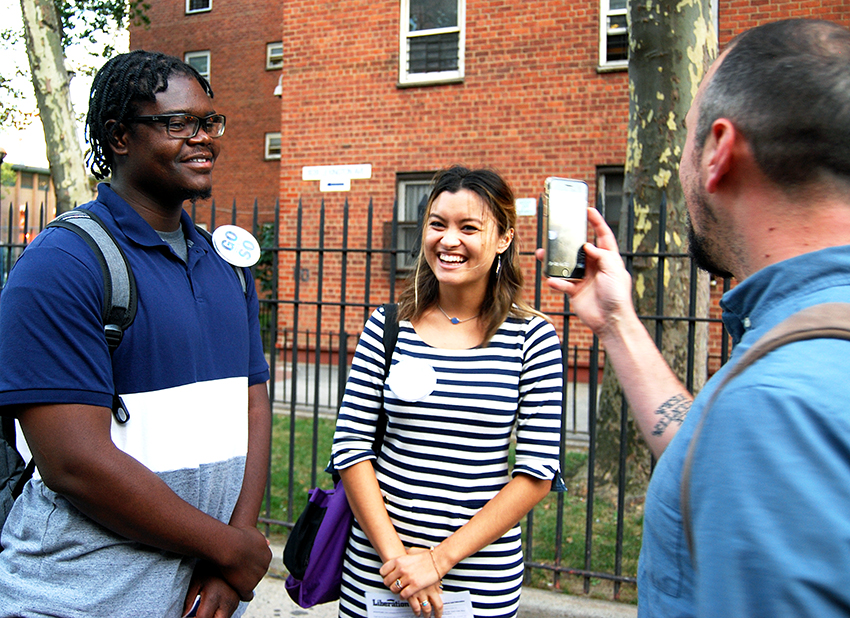 GOSO participant Vaughn Brown and GOSO staff member Harmony Richman talk to GOSO's Geoffrey Golia about their experience at Mayor de Blasio's town hall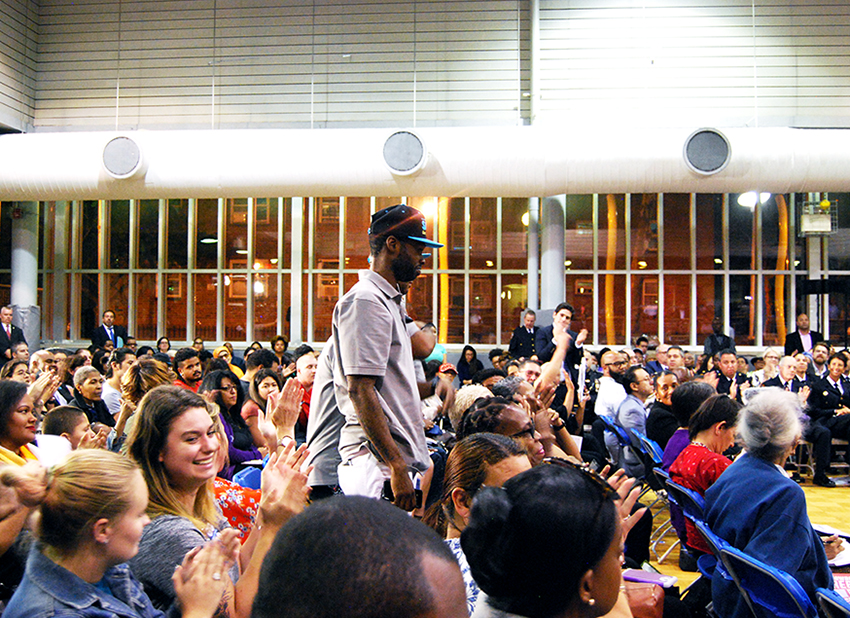 SAVE rises as Mayor de Blasio recognizes their achievements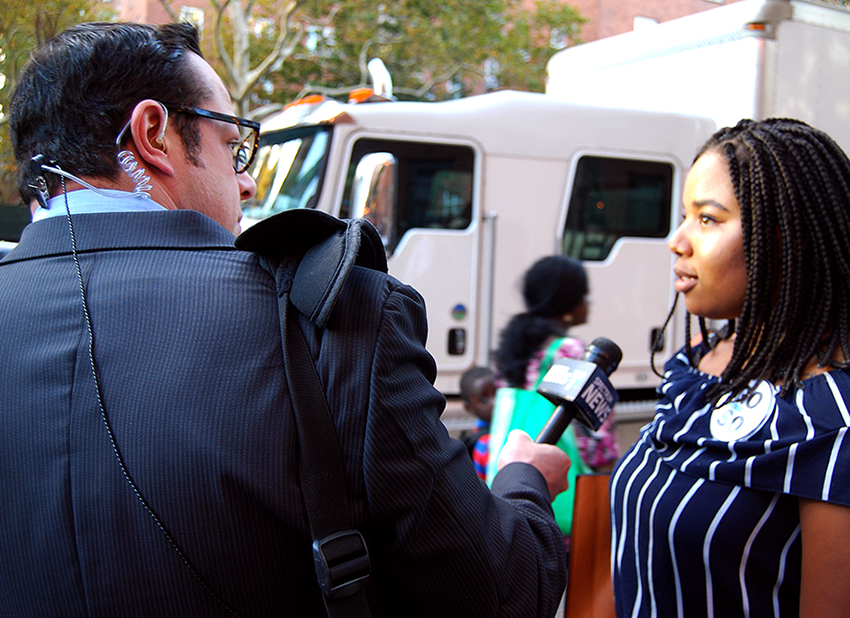 GOSO's Loretta Owens speaks to press outside of Mayor de Blasio's East Harlem Town Hall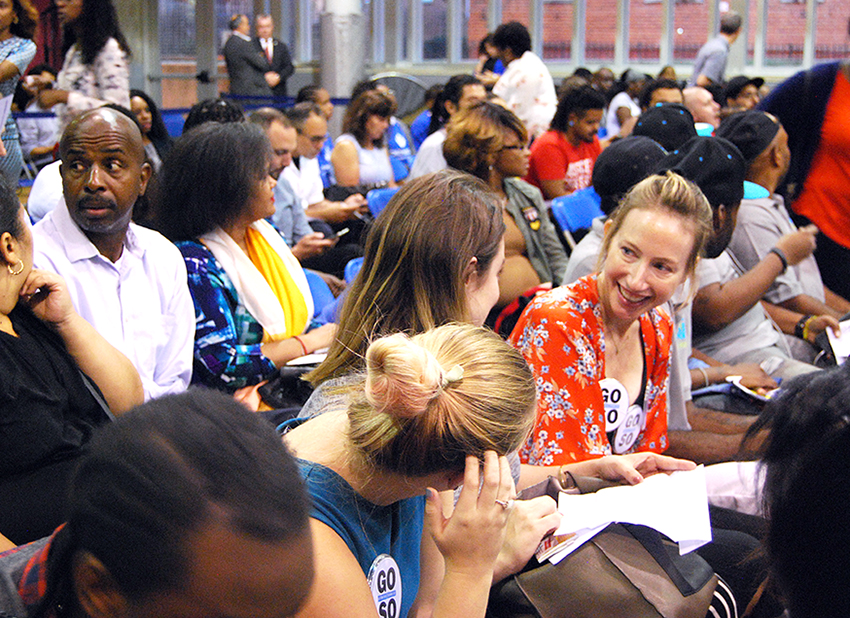 GOSO staff in auditorium at East Harlem Town Hall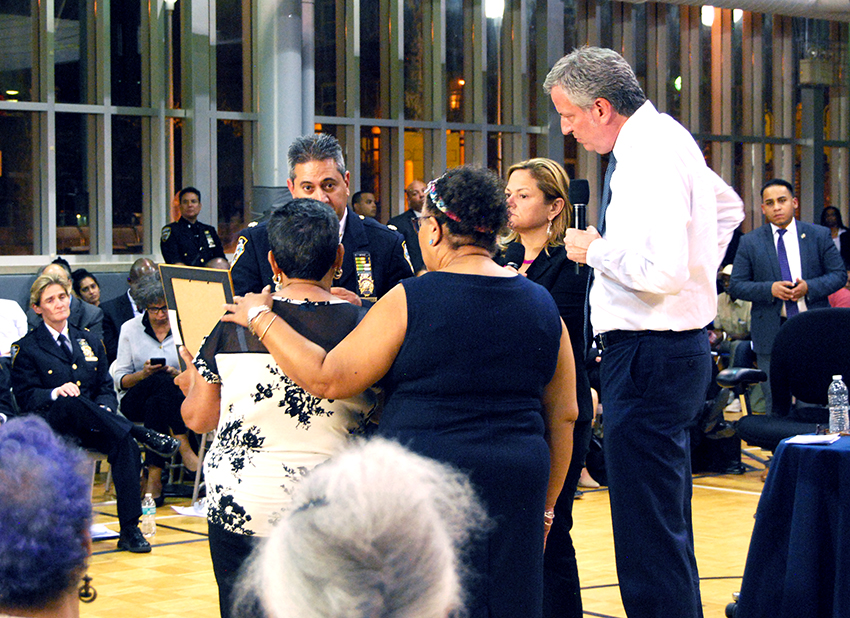 Mayor de Blasio and City Council Speaker Melissa Mark Viverito speak to woman who recently lost her daughter in an incident that is being investigated by police