For GOSO Guys, Spring has been filled with drama … at acting school!
In April, we shared that a group of Guys had been collaborating with the Stella Adler Studio of Acting (both writing and acting in their own original short skits) as part of GOSO's arts and music programming.
This month, GOSO President and CEO Mark Goldsmith and twelve Guys visited the Public Theatre where GOSO Advisor and acclaimed actor of stage and screen John Leguizamo is currently performing his one-man show, "Latin History for Morons."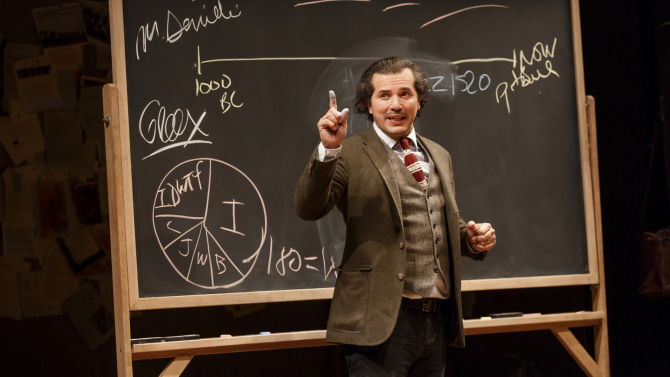 After the performance, Mr. Leguizamo invited the GOSO crew backstage to speak with us about his performance and to hear form our Guys their ongoing experiences in acting school. For one attendee, it was a reunion of sorts, as he and Mr. Leguizamo had shared the stage in 2015 when the actor generously donated his time to work the Stella Adler Studio of Acting and the Guys for a performance at that year's gala fundraiser.
In the past, Mr. Leguizamo has brought two of his Broadway shows to Rikers Island, performing for the jail's entire population of 18-24 year olds — the majority of whom were enrolled in GOSO's program on Rikers Island.
We are incredibly grateful for Mr. Leguizamo's avid and ongoing support of GOSO and its efforts, for over 10 years.
PHOTO: Mr. Leguizamo performing in "Latin History for Morons" at the Public Theatre, via Variety.