GOSO Guys work hard to turn their lives around and to achieve the lifegoals they set for themselves. For many who have stayed out of the justice system, sights are set on higher education. Last year, we were thrilled to share the news that Joshua L. had been accepted to college. Now, another GOSO Guy, Martin, is preparing himself for the classroom Martin was joined by J.P., a member of GOSO staff, for a tour of two upstate New York schools, Binghamton University and Cornell University. Read on and hear about the trip from J.P. and Martin.
"Our trip was both a nice escape from the busy workings of NYC and extremely inspirational," J.P. report. "When I arrived at our meeting location, at 6:30am, Martin had already been there for an hour, excited for the journey ahead! We boarded a bus full of high school seniors and juniors and took off. Destination: Binghamton University.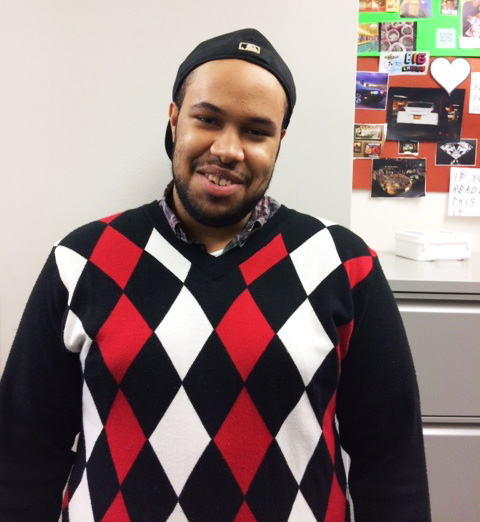 "Arriving on campus, the reaction on Martin's face was amazing, full of excitement and very relaxed. We began the tour with university students and a visit to the dorms followed by lunch like college students — in the dining hall! Next, we met with Eric, an Educational Opportunity Program (EOP) counselor, who spoke about programs they can help finance education and, importantly, build long-lasting relationships while at school. Eric shared his own family's experiences, that his brother was once incarcerated, and how Eric is helping him pursue a college education because of the added value it brings to an individual's life.
"Back on the bus and next stop: Cornell University, where Martin fell in love with the campus and the curriculum. During our Cornell visit, we learned about the school's history. We were delighted that our tour guide, Richard, was born and raised in The Bronx! He'd lived in low-income housing and, now, has gone on to study at Cornell, one of the most respected university's in the country. After the tour, Martin and I ate dinner at a Cornell's dining area while a jazz band played in the background. The night came to an end when Richard, our Bronx-born guide, circled up our group and shared a meaningful sentiment: that Martin and the other students on our trip, belong at Cornell University."
Now, let's hear about the upstate adventure from Martin (pictured): "The trip made me want to go to college even more. Two years after I finished high school, i was still trying to figure myself out and, in the process, I made some mistakes. Now I recognize that an education is key to having a better future. Right now, my goal is to enroll in community college, and then to transfer to Cornell University. The two study areas that interest me are Psychology and Sports Management. From our campus tours, I really connected with Cornell University. I felt like I could be myself and push myself to succeed."
Prior to the tours of Binghamton and Cornell Universities, Martin shared that , he hadn't left the five boroughs of New York City in four years. For him, being in the college environment was relaxing. When asked if he would recommend the college trip to other GOSO guys, Martin replied: "To be honest, I'd recommend that anyone should go on a tour. You get to actually see what students experience and it helps you think about what you really want to study, and about your future. I wish more guys would take this opportunity; it has changed my life."