Top NYC Anti-Recidivism Organization Getting Out and Staying Out (GOSO) Elects Goldman Sachs VP Reginald Andre as New Board Chair
Andre recruited over 50 Goldman Sachs colleagues to volunteer for Award-winning East Harlem-based nonprofit; GOSO works with over 1,000 youth per year; serves all five boroughs and is the East Harlem Cure Violence provider
New York, NY–Friday, September 30, 2016—New York reentry organization Getting Out and Staying Out (GOSO)'s Board of Directors has elected Reginald Andre as the 3rd Chair in the organization's 13-year history. Andre joined the GOSO board in 2014 and is currently a vice president in Goldman Sachs' Investment Management Division. During his time on the board, Andre launched a monthly interview skills workshop in which volunteers help GOSO participants improve their job interview skills and has encouraged over 50 of his Goldman Sachs colleagues to volunteer with GOSO.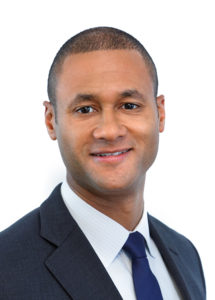 Andre was also the Chair of the 2016 GOSO Annual Gala, which raised over $400,000 and was the organization's most successful gala to date. Goldman Sachs was honored at the gala as the corporate partner of the year.
"Reginald Andre's high level of commitment to GOSO and the young men we serve makes him a tremendous choice for Board Chair," said GOSO President, CEO and founder Mark L. Goldsmith. "He has shown strong leadership in recruiting colleagues from Goldman Sachs and other businesses to volunteer for GOSO programs which has allowed many of our clients to access essential skills they need to reshape their futures, and his passion for the work GOSO does to help court-involved youth better their lives has been a real asset to our organization. We look forward to working together with Reg to expand GOSO's successful model and ensure that more court-involved young people fulfill their goals of staying out of jail and positively contributing to their communities."
"I'm pleased and honored to have been voted Chair of the Board of Directors for one of the most effective reentry organizations in the city," said new GOSO Board Chair Reginald Andre. "I am excited to hit the ground running to help deliver on GOSO's central mission: leveling the playing field for one of the most underserved populations in America. GOSO has the kind of human touch, real talk, and results-driven approach that we need to combat the very real problems facing young men coming out of prison, and I could not be more thrilled to be a part of this important work."
Andre will be replacing outgoing co-board chairs Fred Pfaff and Tony Smith, who served for six years. Fred Pfaff is President of Fred Pfaff Inc, a New York-based marketing and public relations firm specializing in business-to-business communication. He has coached many GOSO clients about accessing employment and career opportunities. Tony Smith is an advocate, practitioner and master of leadership coaching at VSA Consulting Group. He regularly coaches GOSO clients on strategies for success. Both Pfaff and Smith will remain on the board.
"I want to thank both Fred and Tony for their amazing work helping GOSO and our clients as Board Chairs," said Goldsmith. "They've been invaluable in their leadership, notably in the areas of strategic planning, programming, and public relations. We appreciate the significant contributions they made and will continue to make to expand GOSO and to fulfill our mission of giving court-involved young men the tools they need to improve their lives and function successfully in their communities."
About GOSO
Getting Out and Staying Out (GOSO) is an East Harlem-based anti-recidivism organization which empowers young men to avoid involvement in the criminal justice system by reshaping their futures through educational achievement, meaningful employment, and financial independence. One of the most effective reentry organizations in New York City, GOSO serves young men coming out of the NYC jails and NY State prisons in all five boroughs and focuses on individuals' capacities and strengths, as well as their developmental needs and emotional well-being. Our aim is to promote personal, professional, and intellectual growth through goal-oriented programming and comprehensive social support services.
###