PERCENT OF GOSO PARTICIPANTS STAY OUT OF PRISON OR JAIL
NEW JOB PLACEMENTS EVERY SINGLE YEAR
PERCENT ENGAGEMENT IN WORK AND SCHOOL
PERCENT OF PARTICIPANTS IN APPRENTICESHIP PROGRAM ATTAIN EMPLOYMENT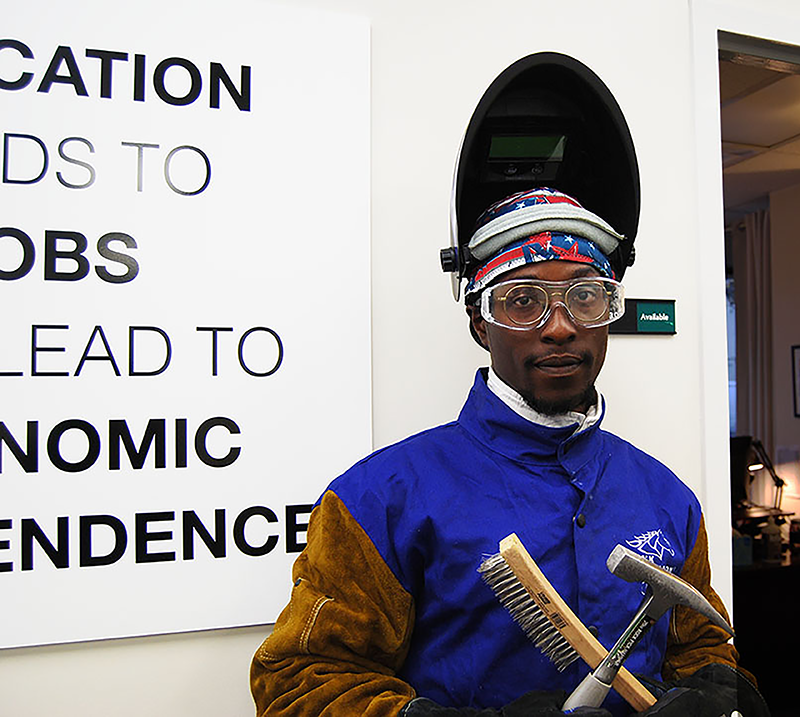 Reducing recidivism through education, job training and direct employment.
GOSO has established itself as one of the most effective reentry programs in the NYC area for 16 to 24 year-old men at Rikers Island. Fewer than 15% of GOSO participants return to jail, as compared to a national average of 67% for their age group. Over the past ten years we've proven that early intervention within the criminal justice system, along with supportive counseling, educational support, vocational training, and workforce development works to reduce recidivism and help our participants become contributing members of their communities.
SPOTLIGHT:

GOSOArts Showcase
On April 8th, 2019, Getting Out and Staying Out participants attended Google's first day of educational workshops at the new Grow with Google NYC Learning Center in the heart of Chelsea. Our Action Board member, Tasia, connected GOSO to this resource.
Let's get right to it: we are so thankful for the generous support of every single person who showed up for our 15th Anniversary gala on April 4th. It's a simple act that speaks volumes.
A recent article in Bon Appétit offered a valuable look at ways in which some restaurant industry employers are using socially-conscious hiring practices to do empower their communities. One major impact the industry is having is on recidivism — the cycle of justice-involved people who are re-arrested.
Sign up for our newsletter!
/
CALL US
T: 212.831.5020 | F: 212.996.0436
ADDRESS
75 East 116th St.
New York, NY 10029
EMAIL US
Info@gosonyc.org