PERCENT OF GOSO PARTICIPANTS STAY OUT OF PRISON OR JAIL
NEW JOB PLACEMENTS EVERY SINGLE YEAR
PERCENT ENGAGEMENT IN WORK AND SCHOOL
PERCENT OF PARTICIPANTS IN APPRENTICESHIP PROGRAM ATTAIN EMPLOYMENT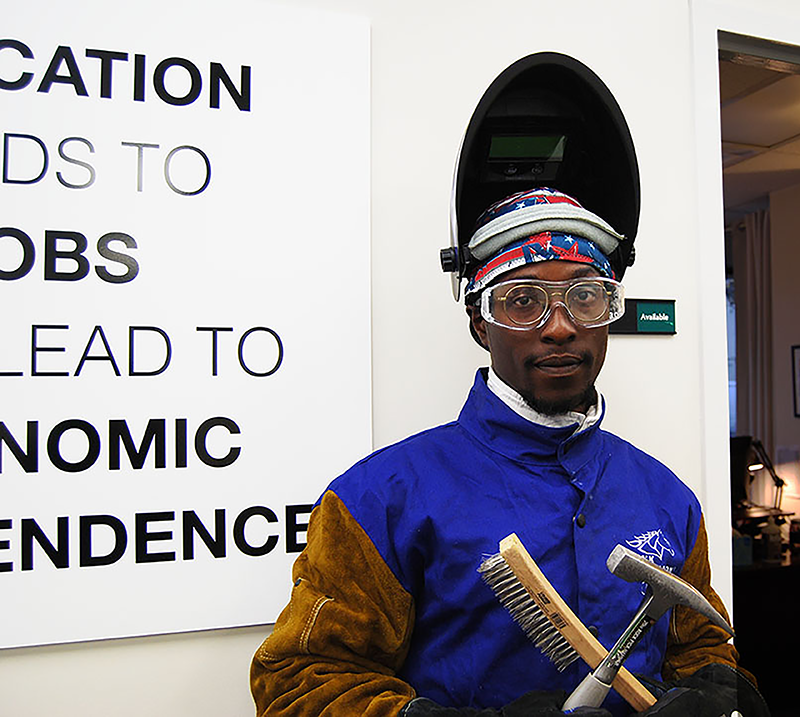 Reducing recidivism through education, job training and direct employment.
GOSO has established itself as one of the most effective reentry programs in the NYC area for 16 to 24 year-old men at Rikers Island. Fewer than 15% of GOSO participants return to jail, as compared to a national average of 67% for their age group. Over the past ten years we've proven that early intervention within the criminal justice system, along with supportive counseling, educational support, vocational training, and workforce development works to reduce recidivism and help our participants become contributing members of their communities.
SPOTLIGHT:

GOSOArts Showcase
Jonathan C. remembers the first time he knew he was destined for a career in the limelight. "I was at home watching Kevin Hart — one of his stand-up specials. I remember noticing the audience reactions, and how he brought so much laughter to the room. I thought — 'I can do that!'"
The successful East Harlem-based post-prison reentry nonprofit Getting Out and Staying Out (GOSO) is excited to announce the addition of esteemed CNN news anchor John Berman to its Board of Directors.
At GOSO, we focus our efforts on teaching the hard and soft skills that our clients need in order to find success in the workforce, and computer skills workshops are part of the basic foundation of our two-week Job-Readiness Curriculum. Using Microsoft Office, e-mailing, and even typing are skills that have become second-nature. However, for many GOSO clients it's the first time they're being exposed to these different programs. It's important to us that our clients become comfortable and ultimately master these skills so that they are opened up to more job opportunities.
Sign up for our newsletter!
/
CALL US
T: 212.831.5020 | F: 212.996.0436
ADDRESS
75 East 116th St.
New York, NY 10029
EMAIL US
Info@gosonyc.org