Details on upcoming events to come.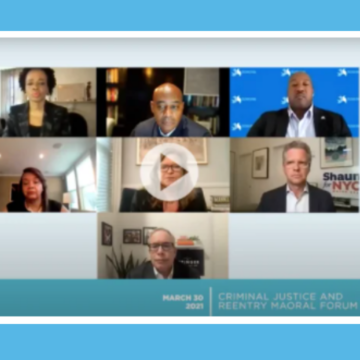 Criminal Justice and Reentry Mayoral Forum
/
2021 Mayoral Candidates will present their positions on key issues related to prison reentry, policing in schools and communities, barriers to housing for justice-involved individuals, mental health and incarceration and criminal justice reform.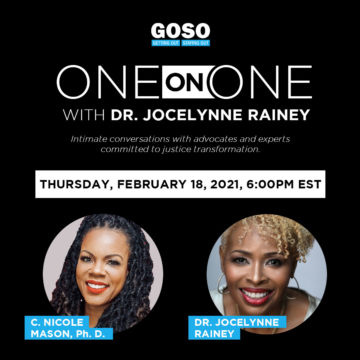 One-on-One with Dr. Jocelynne Rainey and Dr. C. Nicole Mason
/
JOIN US for THE POVERTY TRAP: Race, Inequality and Incarceration, an in-depth discussion with Dr. C. Nicole Mason, president and CEO of the Institute for Women's Policy Research, a leading voice on pay equity, economic policies, and research impacting women; and author of "Born Bright: A Young Girl's Journey from Nothing to Something in America."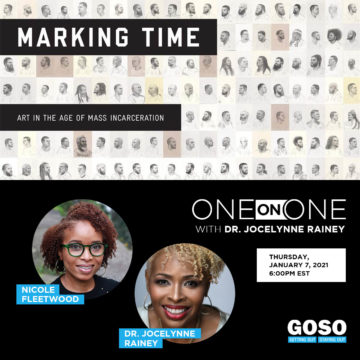 One-on-One with Dr. Jocelynne Rainey and Nicole Fleetwood
/
On January 7, 2021, Dr. Rainey, President and CEO of GOSO, spoke with special guest Nicole Fleetwood, author of "Marking Time: Art in the Age of Mass Incarceration" (2020). Ms. Fleetwood is a writer, curator, art critic and Professor of American Studies and Art History at Rutgers University, New Brunswick.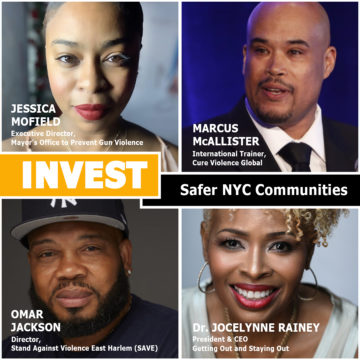 INVEST: Safer NYC Communities
/
Across the country, Black and Brown people are disproportionately impacted by policing. We must work together to change the paradigm for policing in our communities. On Monday, December 7th, GOSO hosted an important conversation about policing alternatives for safer NYC communities with leading voices: Jessica Mofield, Executive Director at the NYC Mayor's Office to Prevent Gun Violence; and Omar Jackson, director of GOSO's own SAVE Cure Violence.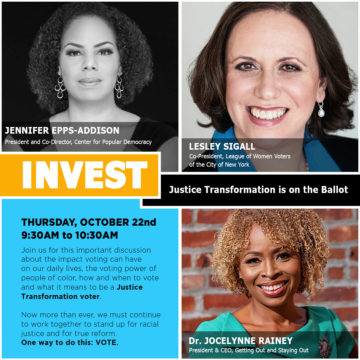 INVEST: Justice Transformation is on the Ballot, a critical dialogue on the power of POC voters
/
An important discussion about the impact voting can have on our daily lives, the voting power of people of color, how and when to vote and what it means to be a Justice Transformation voter, featuring Dr. Jocelynne Rainey, Getting Out and Staying Out; Jennifer Epps-Addison, Center for Popular Democracy; and Lesley Sigall, League of Women Voters of the City of New York.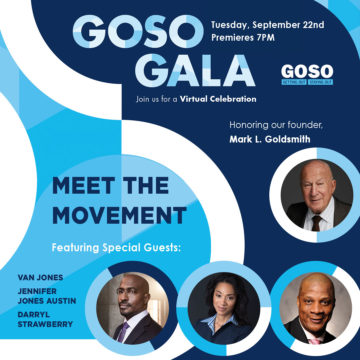 On Tuesday, September 23, GOSO's Meet the Movement virtual gala brought together our community for a program discussing GOSO's place in the nation-wide movement for social change. We honored heard from GOSO President & CEO, Dr. Jocelynne Rainey, and special guests including Jennifer Jones Austin, Van Jones, and Baz Dreisinger. And we were honored to feature a special award presentation to Mark L. Goldsmith, GOSO Founder and CEO Emeritus, for his inspiring vision and 16 years of leadership. As a former executive, Mr. Goldsmith developed GOSO into an organization that helps more than 1,000 incarcerated and justice-involved young men annually to achieve their educational goals and obtain jobs that lead to careers.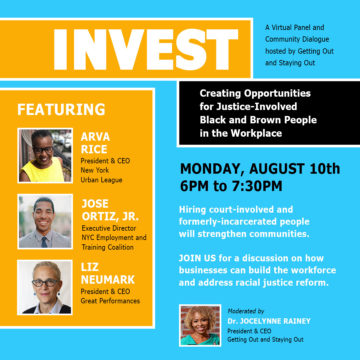 INVEST: Creating Opportunities for Justice-Involved Black and Brown People in the Workplace
/
In the wake of the Black Lives Matter protests, businesses throughout NYC and across the country have pledged to combat systemic racism. On August 10, 2020, Getting Out and Staying Out (GOSO) joined with businesses and advocates who share in our belief that hiring court-involved and formerly-incarcerated people will strengthen communities.