Our GOSO Justice Transformer of the Month series continues, recognizing individuals from our community who are working to create a more equitable and vibrant world. During Gun Violence Awareness Month, we are honored and privileged to call Nicole Myers one of GOSO's and SAVE's team members. Nicole is a Program Manager at SAVE East Harlem's  Johnson and Jefferson House's Cure Violence sites and she believes that there is nothing more important than hands-on work. Nicole has a deep background in community organizing and nonviolence work and is excited to begin her fourth year with the GOSO and SAVE teams.
How did you get involved with GOSO and SAVE?
So, I got involved with GOSO and SAVE thanks to Omar Jackson. I had been doing Cure Violence work for some time now. Through my network I heard GOSO and SAVE was hiring, so I decided to reach out to Omar (which at the time he was the Program Manager). Me and him spoke, he made sure I had a conversation with MG and that's all we wrote. I have been with GOSO for 3 and a half years. It will be 4 years in November.
How do you work to be inclusive and work towards a more equitable society for all?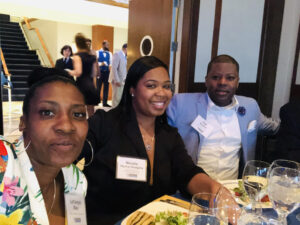 Being inclusive is continuing to work with our partnered community-based organizations, community members, elected officials and clergy. Making sure that the community and our youth we serve get the same services.
How do you feel society can move past the stigmas of incarceration?
The word incarceration alone is a scary word. I am unsure if we will ever be able to get around the stigma of incarceration. This will take decades and improvement of the system. Unfortunately, the Black and Brown community, my community, have been burnt by this system for way too long. The trust is just not there.
June is Gun Violence Awareness Month, after such a tumultuous year and more uncertainty on the horizon, how should we be centering and caring for those most vulnerable to justice involvement and violence in their communities?
Educating the community and working with community partners to provide the best services to our vulnerable youth. When addressing the violence continue to get the word out about denouncing Gun Violence, just continue to show present in the community we serve with the message that we will not have this our community.
How do you counter feelings of burnout while keeping in mind your activism and sense of responsibility?
This work definitely can burn you out and trigger you, but you have to be able to tap into what you need. Self-Care is very important for my mental well-being. My form of self-care is doing something fun with my daughter, listening to music,  meditation, praying, traveling and spending time with loved ones. This was not easy for me to say I need to tap out at first but in time I have learned that this is extremely important. I always say you cannot pour from an empty glass.
Do you have a personal motto that guides you in your daily life? What keeps you focused and motivated during challenging times?
"Stand for something or fall for anything"-that's my motto. What keeps me focused is that there is work that still needs to be done and lives that still to be saved. If I don't do it, who will? It becomes challenging or triggering but I always think of how I want the world to be a better place for my girls, nephews, nieces and my community we serve.
What does justice transformation mean to you?
Real justice transformation requires assortment and shared pledge to a goal.