The Undeniable Link Between Mental Illness and Mass Incarceration — May Message from Dr. Jocelynne Rainey, GOSO President & CEO
Whenever I talk about the mission of GOSO, I always stress that our work is so much more than "Reentry." To illustrate, once you begin looking at the forces driving mass incarceration, one of the logical starting points is poverty. But you can't talk about poverty without factoring in the  prison-to-school pipeline and the emotional toll that incarceration takes on families and entire communities. Then you also have to consider mental health, and the perils of leaving people to fend for themselves rather than getting them the help they so desperately need. Ultimately, our work forces us to think about the whole person and the forces that have shaped their lives, rather than defining a person by their arrest record. 
This month is Mental Health Awareness Month; and this year's focus is on "practical tools that everyone can use to improve their mental health and increase their resiliency regardless of their personal situation"–something we can all relate to given the enormous impact that COVID-19 has had on our lives.
But at GOSO, we also want to pay close attention to the often-overlooked, yet undeniable, connection between mental illness and incarceration. An estimated 20% of individuals in jail and 15% of individuals in prison are struggling with serious mental illness, despite the fact that people with serious mental illness represent only 4%-5% of the population. Almost 30% of people who have been jailed three or more times in a single year also report struggling with moderate to severe mental illness. Further, approximately two million people who are arrested annually have also been diagnosed with a serious mental illness; and the risk of being arrested is especially high for Black and Brown people with mental illness. 
The net effect is the criminalization of mental illness.
How does this happen?
When individuals with mental illness are in crisis or in need, the first responders are often police – especially in lower-income communities. The police are tasked with being the first line of defense, though they're not sufficiently trained to identify or deal with the complex nature of mental illness. In fact, as many as 25% of the deaths from police shootings involve people with mental illness.
In 2019, Kawaski Trawick, a physical trainer and aspiring dancer who struggled with mental illness, also had a fatal encounter with the police. Kawasaki lived in supportive housing, and one night the police entered his Bronx apartment where they found him standing in the kitchen holding a knife and stick. One police officer escalated the situation, despite having received training the week before on how to de-escalate encounters with people suffering from mental illness. As eventually revealed from the bodycam footage, Kawaski yelled at the officers and asked why they were in his apartment. They ignored his requests, and one officer chose to escalate the situation. Kawasaki was killed moments later.
Since the NYPD started its de-escalation training in 2015, at least 16 people who were experiencing a mental health crisis have been killed by the police. 
Correctional facilities also have a disappointing track record helping people who are struggling with mental illness. Just consider the case of Kalief Brosder, another young African-American man from the Bronx, who was held on Rikers Island in solitary confinement for two years without ever receiving a trial. Kalief also had mental health issues, and made multiple suicide attempts while in solitary confinement. Once he was eventually released, he commented: "Before I went to jail, I didn't know about a lot of stuff, and, now that I'm aware, I'm paranoid. I feel like I was robbed of my happiness." Tragically, in 2015, he hanged himself.
The lifelong impact of criminalizing mental illness
In our work, we see the stories that don't make the headlines. Among our participants, we've seen how mental illness has a long-lasting and profound impact on the trajectory of their lives. As children, they often don't get the help they need, finding themselves instead labeled as a problemed student. As they get older, mental illness makes it difficult to find and maintain employment, a prerequisite for housing. Without the necessary help navigating the city's bureaucracy and with their backs against the wall, many program participants who have struggled with mental illness had nowhere to go except the streets.
Encouragingly, we've also seen how alternatives to incarceration like GOSO can be the deciding factor in a person's life. Further, time behind bars can aggravate mental illness; and rather than releasing people who have been incarcerated straight into society, they need help adjusting to life on the outside. It's also important to provide them with a strong support system, stable housing and steady employment.
Register today – INVEST: Mass incarceration or Mental Health
To explore these issues in greater depth, please join our panel on May 26th, where we'll be hosting a panel discussion, INVEST: Mass incarceration or Mental Health. We'll be joined by Dr. Victoria Phillips – a community, health and justice organizer at the Urban Justice Center. She will talk about the Urban Justice Center's Mental Health Project, which aims to disrupt and dismantle the cycle of hospitalization, homelessness and incarceration that traps low-income New Yorkers with serious mental health concerns.
Please register here, and join us for an important conversation about protecting people from being criminalized for no other reason than having mental illness.
Be sure to follow GOSO on social media—@gosonyc—to stay up to date on upcoming events.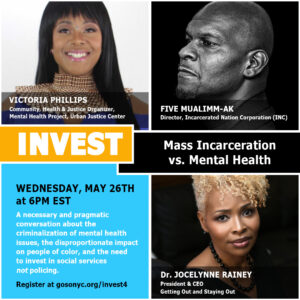 Panel series virtual event, register at gosonyc.org/invest4