Justice Transformer: Cameron Rogers 
Our new GOSO Justice Transformer of the Month series continues, recognizing individuals from our community who are working to create a more equitable and vibrant world. After working on Wall Street for several years, Cameron Rogers decided to live her life devoted to wellness through food/cooking and started the Freckled Foodie blog. Through her continued blogging, Cameron was named one of the five entrepreneurs changing New York's wellness scene by Forbes. Her continued dedication to educating herself and her audiences on the importance of dismantling systemic racism and the mass incarceration crisis are why she is our Justice Transformer of the Month. Be sure to subscribe to Cameron's blog and take a listen to the episode featuring our GOSO President & CEO, Dr. Jocelynne Rainey here.
What made you interested in getting more involved in the work GOSO is doing?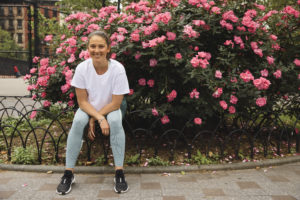 I originally became interested in justice reform when I took a course in college where we visited the local prison weekly and learned alongside women within the minimum security facility (who we referred to as "inside students") all about the system and their experience within it. This course completely opened my eyes to the systemic flaws and the people who were being so negatively impacted by them. I became interested, specifically, in the work GOSO is doing through my older sister, Madison Brisseaux, who is an Action Board Member. When I attended my first GOSO Gala with her I was so inspired by the work that was being done and the overall focus on education, employment, and emotional well-being.
How do you work to create a more inclusive and equitable society for all?
This is something I am continuously aiming to do through my platform and within the community I am building. I make a conscious effort to have uncomfortable conversations regarding racial and social justice on my platform and encourage my community to also do the work to educate themselves on these topics and make changes within their lives. I also use my platform to amplify the voices of BIPOC individuals that I think are doing incredible work in this field and make an effort to, when possible, bring these individuals on to my podcast to share more of their story. Lastly, and most recently, I am trying to bring awareness to how exclusive and inaccessible the "wellness" industry has become in hopes of sparking change for the future.
March is Women's History Month and Criminal Justice Month, are there any women in the criminal justice space you admire? Any women who have made history in racial or social justice you want to uplift today?
I obviously admire and would love to highlight Dr. Jocelynne Rainey for the work she is doing at GOSO and the impact she is making on so many people's lives. I was honored to have her as a guest on my podcast, Freckled Foodie & Friends, and am incredibly inspired by her work. Another woman I would love to highlight who I believe is making an impact in racial justice right now is Dr. Akilah Cadet, founder of Change Cadet. Change Cadet prepares individuals and companies to be soldiers of change in the workforce so there can be more women and people of color at the top. I have learned so much from her over the past year and am honored to now call her a friend.
What was one of the biggest takeaways you had from interviewing Dr. Rainey on your Podcast?
First and foremost, I was incredibly inspired by her determination to impact and change other's lives. This theme was evident throughout our conversation and her career, but of course most importantly and recently with the work she is doing at GOSO. Another main takeaway for myself and my community were the struggles that people face after being in the justice system due to the biases (both implicit and not) that people in society hold towards them. Along with fixing the issues within the actual system, I believe rewiring the image that society sees and the beliefs that society has towards those who have spent time in jail or prison is imperative and crucial.
Do you have a motto that guides you in your daily life and work? What motivates you when you need to overcome a challenge?
Something my grandfather always said to me before my soccer or lacrosse games: "Leave it all on the field." I believe in doing things with 100% effort and showing up for the task at hand. Once I commit to something, I give it my all.
What advice would you give to other changemakers in the digital space?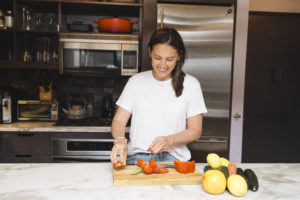 To use your platform with a purpose. If you are someone with a large reach or who holds "influence", I encourage you to assess how you are using it and question what type of impact you are having on people. You have a platform and a following for a reason, and it would be a waste to not use that influence for better or for change.
Why does using your platform to speak about systemic racism and mass incarceration matter to you? Why should it matter to others?
As I mentioned, I think it is incredibly important to use your platform to spark positive change and to have impactful conversations. As I continue to learn and grow individually, I use my platform to assist in helping my community do so as well alongside me. I realize that my community may hold preconceived biases and that these topics are ones they may not be formally educated on or conversations they may not be having. By having discussions on topics such as systematic racism and mass incarceration, I am hoping to open the eyes of my listeners and encourage them to continue their educational journey and spark change for the future.
How do you feel society can move past the stigmas of incarceration?
Learning more about the stories of those who have been incarcerated. Whether it be more about what they experienced, how they have grown, or simply who they are as a human being, I believe having more of these conversations can positively impact and change the stigmas society holds towards incarceration. It sounds so simple, but putting an actual name, face, and story to those who have spent time in the system and taking the time to truly get to know them as a person and an individual can really open one's eyes to the reality of our justice system and its flaws.
What does Justice Transformation mean to you?
Creating a more inclusive society that does not hold biases or create barriers based on one's race, gender, sexuality, public record, and more. It looks like reaching a place where our society is focused on helping others rather than hurting them.