Remembering the Rev. Dr. Martin Luther King Jr.'s Call for Justice in Healthcare—Combatting COVID-19 within City Jails
The State of NYC Criminal Justice report by GOSO
In 1966, the Rev. Dr. Martin Luther King Jr. spoke at the Convention of the Medical Committee for Human Rights in Chicago and famously said, "Of all the forms of inequality, injustice in healthcare is the most shocking and inhumane."
We've seen firsthand how the criminal justice system has struggled, stumbled, and often failed to provide adequate healthcare to people who have been incarcerated. But today is different. Imagine yourself being arrested for a nonviolent offense—only to contract COVID-19. Since correctional officers are still fighting to receive the vaccination and the incarcerated population has effectively been left out of the equation, what was once considered a relatively minor interaction with law enforcement has the potential to become a death sentence.
GOSO's community-based programs help justice-involved men in three key areas: education, employment, and emotional well-being. Today our staff is increasingly spending its time helping program participants—many of whom don't have health insurance—manage the dual challenge of turning their lives around while protecting themselves and their loved ones from COVID-19.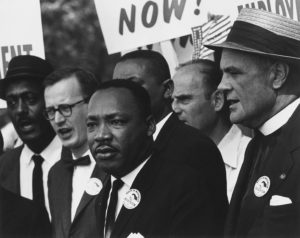 The Rev. Dr. Martin Luther King Jr. issued a clarion call over 50 years ago that access to healthcare is a necessary prerequisite for justice. But the coronavirus pandemic has complicated our work today in unimaginable ways. Indeed, our concerns have only increased as we've witnessed the lack of consensus or a coordinated response by government officials.
The response to COVID within NYC's jails to date
America has lost over 370,000 lives to date due to COVID-19. New York State has reported approximately 40,000 coronavirus-related deaths—with over 62% occurring in New York City. Further, over 1,600 correctional facility staff members across the five boroughs have been infected to date, with nine officer deaths. There have also been hundreds of diagnosed cases among the incarcerated population, never mind the undiagnosed. This raises serious questions about how we're going to bridge the gap between the CDC's suggested protocols for social distancing and the everyday reality within correctional facilities.
Albany and City Hall lock horns
Many are hopeful that the new vaccines will stem the tide of infections. One of the challenges, however, is prioritizing who gets vaccinated and how quickly we can act. New York Governor Andrew Cuomo initially announced that COVID-19 vaccinations were available for people 65 years and older, healthcare workers, frontline workers, and anyone who is immunocompromised. Meanwhile, the de Blasio administration has been rolling out vaccinations for EMTs, firefighters, and police.
There have been mixed messages as to when correctional officers would receive the vaccine. In November 2020, Michael B. Powers, president of NYS Correctional Officers and Police Benevolent Association (NYSCOPBA), pleaded, "With COVID-19 rates beginning to spike throughout New York, we are calling on the governor and DOCCS to take immediate steps to prevent any outbreaks inside the facilities where my members serve the people of this State."
City Hall eventually added New York City correctional officers to the list of those eligible to be vaccinated, only to backtrack with an announcement that the state has blocked its rollout plans. "The State has ordered the City to not vaccinate more vulnerable city workers, including DOC and officers who regularly perform CPR and administer Narcan," said city spokesman Bill Neidhardt.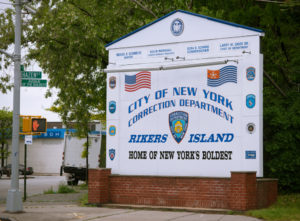 Protecting NYC's incarcerated population
The political wrangling over who gets what has given us all with a bit of whiplash. Added to this web of uncertainty is how and when will the incarcerated population be given access to the vaccine.
We've been advised that the de Blasio administration finally received permission from the State to provide vaccinations for only the highest risk patients. Yet, limiting vaccine eligibility to only a subset of the incarcerated population is woefully inadequate. Given what we've seen from Albany and City Hall, we're also extremely concerned that the lack of consensus will continue to drag on—imperiling the lives of correctional facility staff, incarcerated individuals, and the frontline workers who help the justice-involved who are released daily.
Lessons for the future
In the months ahead, we need bold vision and swift action to stop the spread of COVD-19 within New York City's correctional facilities. If nothing else, the coronavirus pandemic has taught us that we need to be better prepared when problems of this magnitude strike.
Pandemic preparedness means having clear, well-thought plans that include guidelines for the level of consent people who are incarcerated will have in getting the vaccine. The Department of Corrections also needs to establish policies for how to treat those who opt out of receiving the vaccine.
Many issues will require us to seriously reconsider how correctional facilities operate in the future. Will vaccinations be sufficient to protect the incarcerated individuals and correctional officers who are housed and transported with those who haven't been vaccinated? The efficacy of the vaccines currently available is still unknown.
Moreover, how will we respond in the event of another unforeseen pandemic? Will we be able to apply the lessons of COVID-19 to our future, or are we destined to repeat the mistakes of 2020?
A call to action: Helping GOSO to continue championing justice in healthcare
Through our ongoing work helping young, justice-involved men transition back to life post incarceration, we have become concerned about the need for a COVID-19 response policy that protects everyone who enters our city's jails. And because of the sheer volume of activity—between arrivals, releases, staff reporting to work, etc.—we're projecting that the rate of infection will increase unless we see serious corrective action.
As we celebrate the life and legacy of the Rev. Dr. Martin Luther King Jr. on our nation's day of service, we want to encourage you all to be part of the solution. Below are just some of the actions you can take to help ensure the march for justice and social progress continues:
Share this op-ed with your network to engage those around you in Justice Transformation work.
Subscribe to our Dignity Download monthly e-newsletter to stay up to date on the latest at GOSO and how you can take part in change.
Follow us on Social Media — @gosonyc — for regular calls to action.
Apply to become a GOSO Volunteer at gosonyc.org/volunteer.