As you support organizations this giving season, we hope that you will keep GOSO in mind. It is because of people like you that GOSO can sustain our critical work to provide services to our participants like Jordan. Please take a few minutes to read his story and make a donation to GOSO as we prepare for 2021.
Jordan's Story
Certain communities have a bounty of resources at their disposal—good schools, parks, recreation centers. While other communities, often poor and communities of color, are severely lacking in the resources young people need in order to be successful. Growing up in Bushwick, Brooklyn, Jordan was impacted by the lack of care and attention given to his neighborhood. There weren't community centers or afterschool programs to keep him and his peers on track and he ended up getting involved with destructive activities, which led to numerous arrests. He knew that his actions were not aligned with his goals in life and he wanted to make a change. That's when he found GOSO. "I told myself, 'you can't go on like this forever.' I promised I would give GOSO a chance and do something better for myself."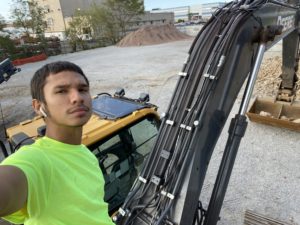 At GOSO, he felt all of the opportunities that he didn't have growing up open up around him. He enrolled in GOSO's on-site high school equivalency program. "I saw how a lot of people around me had struggled without a high school diploma. I knew that by getting my diploma, I would have more options in life." Jordan thrived in GOSO's intimate learning environment and he successfully graduated with his diploma in 2018 with support from his educators and Career Manager, Lauren.
As a high school grad, Jordan is able to qualify for the jobs he is interested in. Through our GOSOWorks employment program, he earned direct employment as a site manager with a company called Earth Efficient. "I work at a clean soil bank and ensure materials from construction sites get recycled properly. It's a truly exciting place to work and I feel blessed to be there. I'd love to be a supervisor one day." Jordan has a lot of hope for his future, knowing that he has a solid educational and professional foundation for success in whatever he chooses to do. "I just want to keep building. Since being a part of GOSO, I've learned how persistent and motivated I am. I've made it this far and I don't want to go back."
Our goal at GOSO is to have more success stories like this as we enter into 2021 — please give today and invest in Justice Transformation.