GOSO is able to reach hundreds of justice-involved young men each year because we have a strong team of dedicated and passionate individuals who show up each day, ready to hit the ground running. All of our team members bring unique talents and perspectives to our organization, and our work wouldn't be possible without them.
This week, we're introducing you to Kimberly Arroyo who is our Office Manager here at GOSO. Kim keeps everything running smoothly—ensuring that both our participants and our staff have the resources they need to take on the day. Her organization and positive attitude are huge assets to our work and environment, and we're lucky to have her on the team!
Read our interview with her below:
What is your role?
I've recently been promoted to Office Manager and I take care of all of the administrative duties at all three GOSO locations (our main office, Education Center, and SAVE's office). I make all of our orders for the office—food and kitchen supplies; clothing, books, and other resources for participants; office items for staff; MetroCards for participants to get to work and school; everything! I make sure everything is running seamlessly.
Why did you decide to work at GOSO?
I want to pursue a career in social work! I am actually currently in college working towards my degree. I wanted to gain some experience in the meantime and work in my field of interest. I came across this great opportunity to work with GOSO, which is in the social work field, and I could do administrative work that I have a lot of experience in. During my time here, I'm looking to just soak up everything, all of the information and education I can use towards my degree. The mission of GOSO is close to my heart. It applies to a lot of the men in my family and I wanted to give back to my community—I'm from the South Bronx, so this is my area.
What professional and personal experiences influence your work at GOSO?
I was challenged a lot as a young person, and I wish I had had the opportunity to work with an organization like GOSO when I was younger. I think it would have been a great tool for me. There can be so much impact with the smallest interactions, and I love hearing our participants' stories and sharing a little of mine with them. I love when I relate with them about something and they weren't expecting it. They think I'm so put together, but I love to tell them that we all have stepping stones to get to where we are. I didn't get to this point easily; I had to go through a lot to get here.
Why should people care about the work that GOSO does?
It is needed—our youth is the future! People from minority communities go through so much, and it's great to educate young people starting early on, and get them to a place where they're comfortable and confident in their lives. GOSO does a great job giving our participants the tools they need to succeed, and eventually it will just create a better future for everyone.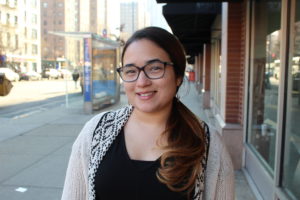 Can you share a meaningful moment you've had while working here?
One of our participants came into GOSO without his glasses, and I was expressing that he really should prioritize getting new ones so he can see properly. He was struggling and squinting in class, and I was like you need to do something! He explained that he didn't have the money or the health insurance to get a new pair. I explained to him that there are resources like Medicaid and that's something he might qualify for. I sat down with him and I helped him with his whole application process. Those online applications can be really daunting, and it was just a matter of sitting down together and doing it step by step. Then, he was finally able to get his glasses! It meant so much to me that just a few minutes of my time made such a difference. Seeing how happy he was just warmed my heart!
What is your most important attribute that you bring to your role?
I think my organization in everything I do. I have a vision and can scan out a situation and figure out how step by step we can resolve an issue. I have strong problem-solving skills.
What's something you've learned from being here?
Never to assume. I think sometimes when working with this population, people might have assumptions about justice-involved people and justice-involvement in general. Getting to know these young men and hearing what they've been through, it's unfair to assume. Every case and every person is different.
What's your favorite GOSO program?
My favorite thing so far has been our onsite school that we have! I sit right at the front of our Education Center, so I get to see the students coming in every morning and see them go through the process from start to finish. They're so excited when they finally earn their diploma, and I remember when that was me. I remember taking my exam and passing it—it opened so many doors for me. It's so good to see that we provide opportunity that for our participants and when they accomplish it, you're just as happy as they are.
Favorite hobbies outside of GOSO?
Spending time with my kids! The work we do here gives me a different mindset when I go home. I'm raising a young boy of color and I think about the things that he could get into potentially. It's reassuring to know that there are programs like GOSO. I just love being with my son and daughter—we go to the park, events with our family, shopping, everything! They're the best.