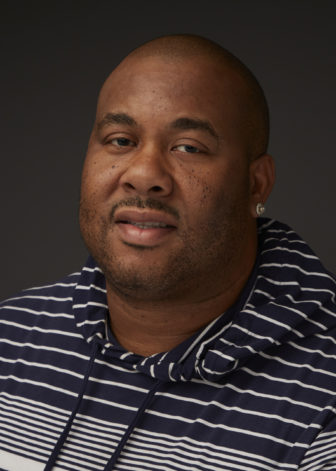 Javon Alexander, Program Manager, Wagner
Contact: jalexander@gosonyc.org
Javon Alexander is the Program Manager for the East Harlem Wagner Houses expansion program, which is under the umbrella of GOSO and spearheaded by SAVE. Javon is one of the initial members of the starting team for SAVE, which was established in 2016. He came on board as a Violence Interrupter and was subsequently promoted to Supervisor, utilizing his leadership skills and ability to assess and trouble shoot in fast-paced environments. While working as a Supervisor he took on a Program Manager role and duties that led him to his current position, which allows him the opportunity to service more of the East Harlem community.
Prior to joining SAVE, he worked in the music industry as a road manager for G Dep and Black Rob of Bad Boy Entertainment. Javon realized that he had access to both industries and pursued a career in bringing the music and clothing industries together. He became the first East and West Coast Cross Promotion consultant for Al. Wissam Clothing line and Gordon & Ferguson distributors.
Javon has organized, hosted and funded numerous community events in East Harlem. He has coordinated events to provide families in need with donations. To name a few, he has organized a Back-to-School supplies drive, Thanksgiving food drive and Christmas toy drive. During the summer he hosts community barbecues, block parties and an annual Healing Dinner which is in honor of mothers who lost family members due to gun violence.