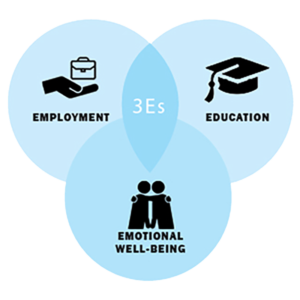 GOSO's work is framed by our Three E's: Education, Employment, and Emotional Well-Being. We believe that all three work together to form a foundation on which GOSO participants can build their futures.
Our approach is person-centered, and we tailor our services to meet the individual abilities and needs of each participant. Our small, highly qualified staff know every young man by name. We seek to help each participant imagine a life beyond sustainable employment, and to guide him toward a challenging and rewarding career through education and training.
Education
In collaboration with the Department of Education (DOE), GOSO has established a high-school-equivalency program at our East Harlem-based Education Center. Our Pathways to Graduation (P2G) class makes education more accessible to our participants, and staff members are always available to support our students' efforts. Students receive breakfast, lunch, and MetroCards for transportation to and from class. This program allows students' to receive the support and academic instruction to increase their overall level of academic attainment. Participants are referred to outside HSE programs as well. Other participants who are enrolled in high schools receive support from their Career Managers in staying on track to obtain their diploma. Finally, GOSO supports our participants in enrolling into pre-college courses as well as supports them throughout their time in college.
Employment
Our GOSOWorks program works closely with small businesses within the 5 boroughs to provide internship-to-employment, internship, and employment opportunities for GOSO participants to get workforce experience and mentorship. Through the city's Work Progress Program, we pay for the initial 240 hours of our participants paid internship.
If you know a small business who would be willing to work with us, please put us in touch!
Emotional Well-Being
At GOSO, all of our participants are assigned a "Career Manager" who is a Licensed Master or Clinical Social Worker that works closely with the participants to achieve their goals.
We also provide both individual and group therapy, to create a holistic environment where our strength-based approach is a baseline for all of our interactions and interventions.
What does a strength-based approach mean?
Strength-based approaches concentrate on the inherent strengths of individuals, families, groups and organisations, deploying personal strengths to aid recovery and empowerment. In essence, to focus on health and well-being is to embrace an asset-based approach where the goal is to promote the positive.
We expect volunteers to do their best to uphold a strength-based approach.