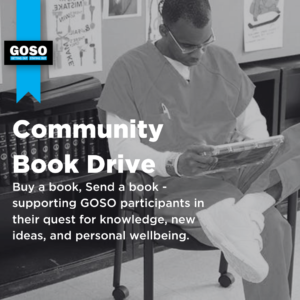 GOSO is excited to launch our Community Book Drive – supporting GOSO participants in their quest for knowledge, new ideas, and personal wellbeing.
Our Community Book Drive will help to build a resource of books to send to incarcerated participants in GOSO's Reentry Program and those who are part of our Community Program in East Harlem.
Providing books to participants is greatly appreciated because of the limited access to books in prisons and jails.  Many GOSO participants note that reading is helpful because of the isolation they feel, and they prefer to spend their time reading rather than solely thinking about their legal situation. The Community Book Drive also provides participants with an opportunity to learn about various topics of their interest.
Our Community Book Drive is supported by Bookshop to ensure that each book purchased will support a small local bookshop with female or Black and brown owners. GOSO will also receive 10% of proceeds for every book purchased through this link. Through the purchase of a book, you are not only supporting GOSO participants, you are also supporting local bookstores.
We hope that you will support GOSO's Community Book Drive!  Go to this link to find the books most requested by our participants. https://bookshop.org/lists/buy-a-book-send-a-book/