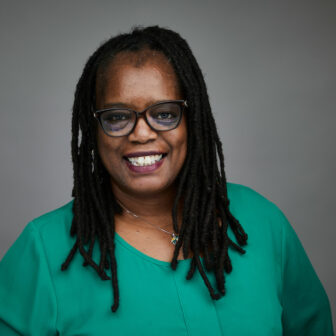 Afi M. Turner-Myers, Employment Coach
Contact: aturner-myers@gosonyc.org
For the past 5 years, Afi Turner-Myers has served as the Reentry Community Team Lead at STRIVE International located in East Harlem. At STRIVE, she conducted market research to determine employer demand, developed job opportunities for formerly incarcerated clientele, and worked with them on the furthering of professional skill sets. Afi also created partnerships with employers to allow for the ongoing and regular placement of clients.
Prior to her work with STRIVE, Afi started out as an intern with the Fortune Society in their Career Services Department. She worked her way through the Career Service Department starting out as a cold caller and then a Junior Job
Developer. After becoming a Career Coach and Retention Specialist she left Fortune in 2013 and started at STRIVE as an Employment Specialist. Afi attained an Associate's degree from Bard College through the Bard Prison Initiative, and upon her release is in the pursuit of furthering her education with Bachelors in Political Science from CUNY Herbert H. Lehman College. Afi does frequent public speaking, and is a dedicated advocate for the job placement, economic opportunity, and societal advancement of formerly incarcerated professionals. She is Board Member of Providence House, a Non-Profit that services women returning from incarceration.