The showcase was written, performed and directed entirely by men who were formerly incarcerated or involved in the criminal justice system.
By Brendan Krisel, Patch National Staff | Apr 20, 2018 5:23 pm ET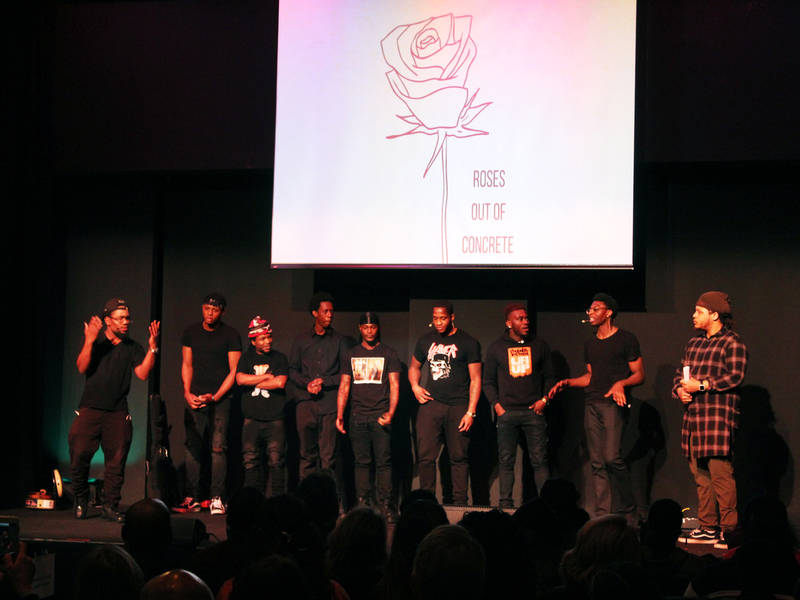 HARLEM, NY — The roses stood on the Apollo Soundstage, locked arms and took two steps forward. Looking out over a crowd of friends, family and supporters they began their invocation.
"Roses!"
"Out of concrete!"
The invocation kicked off Harlem nonprofit Getting Out and Staying Out's second annual arts showcase. The showcase was written, performed and directed entirely by participants of Getting Out and Staying Out, which provides services to young men who were previously incarcerated at Rikers Island or involved with the criminal justice system.
The showcase was the culmination of a year's worth of programming done by Getting Out and Staying Out's arts program GOSOarts, the program's creator Harmony Richman said.
"This showcase includes improv, comedy, spoken word and hip-hop," Richman said. "Everything was created by the guys — everything they wrote, created and directed every step along the way."
Most of the performances during the GOSOarts showcase reflected the struggles of rebounding from involvement in the criminal justice system. In one skit, a man is denied a loan to start a barbershop in his community because a prior felony conviction scares off a bank manager. The bank manager's own past later catches up to him when he's denied admission to a prestigious master's program for a juvenile offense.
Not all of the performers — or "roses" as they called themselves — had a background in acting or music.
One performer named Dejon said his interests are more geared toward technology, so he signed up for the showcase to express his creative side.
"I just got into the whole thing because I wanted to express myself," Dejon said. "I have a very funny personality."
Dejon also said performing in the showcase was a way to give back to Getting Out and Staying Out. The organization connected him with his current internship at the Horticultural Society of New York and also helped Dejon when he was in danger of losing his apartment.
Another performer, Tim, was drawn to Getting Out and Staying Out's arts program due to his interest in music production.
"I'm just interest in arts in general," Tim said. "So when I heard there was a place in [Getting Out and Staying Out] where you could come every Tuesday it was like 'alright, well let me go and see what other people have to offer' and I find that everybody's got their own talents and trying to get out there."
Both Dejon and Tim said performing at the Apollo Theater was nerve-wracking, but they were determined to get over their stage fright.
At the end of the showcase, each performer was given a personalized award for their contribution to the program. Actor John Leguizamo made a special appearance to praise the performers for their talents and bravery and to take photos with the group.
Getting Out and Staying Out was founded fifteen years ago by retired cosmetics industry executive Mark Goldsmith. Goldsmith was inspired to start the organization after he was sent to the GED program at Rikers Island for a "principal for a day" program.
"I asked for the toughest school in New York," Goldsmith said. "And I figured I'd be going to East New York or the South Bronx and they said 'how about Rikers Island?'"
The organization's mission is to reduce recidivism rates among its participants by connecting them with opportunities to continue education and seek employment. Getting Out and Staying out offers educational and vocational training, a GED program, mental health treatment and referrals and job connections through its GOSOworks program.
Harmony Richman, who created the arts program, also runs the organization's employment program. She said that the arts program has benefitted Getting Out and Staying Out's participants in other areas of their lives such as their jobs and education.
"I think that art can be a really empowering outlet for people to persevere through some of the challenges you deal with in your day to day lives" Richman said. "And I also think it's just a great mechanism of creative expression and being in tune with one's self."
Photos courtesy Kirsten Chilstrom